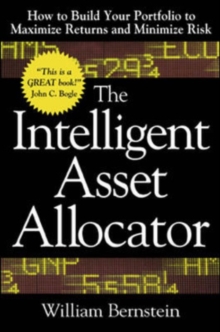 The Intelligent Asset Allocator: How to Build Your Portfolio to Maximize Returns and Minimize Risk
Hardback
Description
Profit through good times and bad with a resilient, diversified portfolioThe Intelligent Asset Allocator has helped thousands of people like you build wealth through carefully diversified portfolios.
Now, with global markets in constant flux, balancing risk and reward is more critical than ever.
Self-taught investor William Bernstein offers no gimmicks, inside secrets, or magic solutions-just the facts about investing and calm, smart advice on how to build and manage a portfolio designed for the long run.
This is all you need, despite claims of the advisors and pundits looking to profit from your hard-earned money.
This easy-to-understand guide provides everything you need, including:* The basics of finance-historical, psychological, and institutional* Time-tested strategies for improving the risk/reward ratio* Ways to sharpen your focus to improve portfolio managementBernstein walks you through the fundamentals of important topics like multiple-asset portfolios, optimal asset allocations, market efficiency, and strategy implementation.No one knows the future of markets.
Your forecast is as good as that of the last financial pundit you saw on TV.
Trust your instincts, trust your research, and trust the proven-effect approach of The Intelligent Asset Allocator, and your portfolio will deliver returns through the blue skies and storms of financial markets.
Information
Format: Hardback
Pages: 206 pages
Publisher: McGraw-Hill Education - Europe
Publication Date: 01/09/2000
Category: Investment & securities
ISBN: 9780071362368
Free Home Delivery
on all orders
Pick up orders
from local bookshops
Reviews
Showing 1 - 2 of 2 reviews.
Review by Steve777
16/06/2015
Very helpful explanation of how to determine your asset allocation. Good argument for importance of regular rebalancing, avoiding small-cap growth stocks, having some bonds (esp short-term), and good expense ratio targets.
Review by rsubber
16/06/2015
Bernstein offers a somewhat disorganized explanation, defense and prescription for the "asset allocation model" for low-risk investing. I am moved to develop a rebuttal to the model. The mathematical theory seems rigorous enough: diversified investments can be structured to minimize (not eliminate) risk as defined by variance over time. However, the definition of risk is ambiguous and possible non-actionable. It is not apparent to me that there is any rigorous defense of a particular asset allocation mix for a particular investor with a particular so-called "tolerance for risk." I believe it may be possible to show that this asset allocation model is an arbitrary, simply conventional "cover your ass" posture for investment advisors who can't articulate a better system of investment advice.