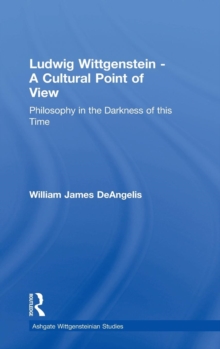 Ludwig Wittgenstein - A Cultural Point of View : Philosophy in the Darkness of this Time
Hardback
Description
In the preface to his Philosophical Investigations Ludwig Wittgenstein expresses pessimism about the culture of his time and doubts as to whether his ideas would be understood in such a time: 'I make them public with doubtful feelings.
It is not impossible that it should fall to the lot of this work, in its poverty and in the darkness of this time, to bring light into one brain or another - but, of course, it is not likely'. In this book William James DeAngelis develops a deeper understanding of Wittgenstein's remark and argues that it is an expression of a significant cultural component in Wittgenstein's later thought which, while latent, is very much intended.
DeAngelis focuses on the fascinating connection between Wittgenstein and Oswald Spengler and in particular the acknowledged influence of Spengler's Decline of the West.
His book shows in meticulous detail how Spengler's dark conception of an ongoing cultural decline resonated deeply for Wittgenstein and influenced his later work.
In so doing, the work takes into account discussions of these matters by major commentators such as Malcolm, Von Wright, Cavell, Winch, and Clack among others.
A noteworthy feature of this book is its attempt to link Wittgenstein's cultural concerns with his views on religion and religious language.
DeAngelis offers a fresh and original interpretation of the latter.
Information
Format: Hardback
Pages: 204 pages
Publisher: Taylor & Francis Ltd
Publication Date: 21/06/2007
ISBN: 9780754660002
Other Formats
Paperback / softback from £39.19
Also by William James DeAngelis