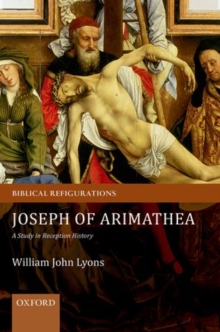 Joseph of Arimathea : A Study in Reception History
Paperback / softback
Description
Joseph of Arimathea: A Study in Reception History examines the extensive and convoluted afterlives of a minor biblical character who nevertheless plays a major role in three pivotal scenes in the passion of Jesus Christ as presented by the four canonical Gospels: the request to Pilate for the body, the descent from the cross, and the burial of Jesus' corpse.
Characterised in subtly different ways by each Evangelist, these sparse biblical Josephs wereexpanded, expounded, translated, harmonised, and extended by early literary sources and developed thematically by the artistic traditions of the Renaissance.
In the Medieval Period, Joseph arrived, by 'fortuitous' accident, in the British Isles, becoming an iconic figure for English nationalists (through theGlastonbury tradition) and for British Imperialists (through Parry's musical setting of Blake's Jerusalem).
Twentieth-century developments in church life, film, literature, spiritualism, and studies of the historical Joseph round out what such a minor character can accomplish, given a sufficient richness in original texts and the right opportunities afforded by later cultural developments.
In Joseph of Arimathea's case, certain aspects proved highly adaptable, especially the sharpcontrast provided by his portrayal as a bold active figure in the Gospel of Mark and as a fearful passive character in the Gospel of John, the attractiveness of his wealth and nobility to those who considered themselves of similar (or much higher) status, and the opportunities provided by his swift appearance anddeparture from the most important event in Christianity's foundational documents.
Information
Format: Paperback / softback
Pages: 202 pages
Publisher: Oxford University Press
Publication Date: 06/03/2014
Category: Literary studies: general
ISBN: 9780199695928
Also in the Biblical Refigurations series | View all