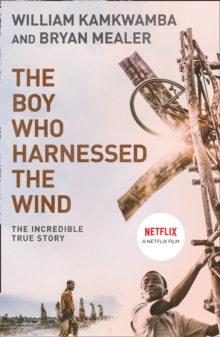 The Boy Who Harnessed The Wind
Paperback
Description
When William Kamkwamba was just 14 years old his parents told him that he must leave school and come and work on the family farm as they could no longer afford to $80 a year tuition fees.
This is the story of his refusal to give up on learning and reading.
A story of passion, determination and remarkable achievements.Malawi is a country battling AIDS, drought and famine, and in 2002, a season of floods, followed by the most severe famine in fifty years, brought it to its knees.
Like the majority of the population, William's family were farmers.
They were totally reliant of the maize crop. By the end of 2001, after many lean and difficult years, there was no more crop.
They were running out of food - had nothing to sell - and had months until they would be able to harvest their crop again.Forced to leave school at 14 years old, with no hope of raising the funds to go again, William resorted to borrowing books from the small local library to continue his education.
One day, browsing the titles, he picked up a book about energy, with a picture of a wind turbine on the front cover.
Fascinated by science and electricity, but knowing little more about the technology, William decided to build his own.
Ridiculed by those around him, and exhausted from his work in the fields every day, and using nothing more than bits of scrap metal, old bicycle parts and wood from the blue gum tree, he slowly built his very own windmill.This windmill has changed the world in which William and his family live.
Only 2 per cent of Malawi has electricity; William's windmill now powers the lightbulbs and radio for his compound.
He has since built more windmills for his school and his village.When news of William's invention spread, people from across the globe offered to help him.
Soon he was re-enrolled in college and travelling to America to visit wind farms.
This is his incredible story.William's dream is that other African's will learn to help themselves - one windmill and one light bulb at a time - and that maybe one day they will be able to power their own computers, and use the internet, and see for themselves how his life has changed after picking up that book in the library.
Information
Format: Paperback
Pages: 288 pages, 16 col plates (8pp)
Publisher: HarperCollins Publishers
Publication Date: 01/02/2010
Category: Autobiography: general
ISBN: 9780007316199
Other Formats
EPUB from £4.74
eAudiobook MP3 from £18.89
Free Home Delivery
on all orders
Pick up orders
from local bookshops
Reviews
Showing 1 - 2 of 2 reviews.
Review by starbox
16/06/2015
"Science and creation - something greater and more real than any magic in the land",, December 13, 2014This review is from: The Boy Who Harnessed the Wind: Creating Currents of Electricity and Hope (P.S.) (Paperback)An inspirational true story, narrated by a young Malawian man from a poor rural background. He tells of his life-long interest in science - early efforts involve fixing radios and bicycle dynamos.But then a combination of corrupt government and drought lead to a national famine. Kamkwamba's descriptions of his young friends and his beloved dog wasting away are heartbreaking. Meanwhile his family are on meager rations, and he's had to quit school, unable to pay the fees.With time on his hands, and aided only by a science book, he decides to try and build a windmill... 'One day windmills would be our shield against hunger.' But with only scrap metal and components he's crafted out of everyday items, it's a challenging undertaking...As a totally non-scientific female, I have to say that the sections where the author describes his handmade circuit breaker or the ins and outs of step up transformers were way beyond me (although he writes in simple English.) But even in the midst of advanced physics, the reader is ever aware this book is set in Africa:'The type of rectifier I needed looked like a tiny D-cell battery on a long metal skewer and reminded me of the smoked mice that young boys sell on the roadside as snacks.'An enjoyable read which draws the reader into a feeling of real liking for William and his friends.
Review by Bagpuss
02/03/2016
I struggled through the first 40ish pages as it just didn't grab me – it was feeling like one of those books which would be a chore to read. However, I persevered and I was so glad I did! <br/><br/>This isn't just a tale about windmills and science, but is about William's life in Malawi. His father had been a market trader and a bit of a rogue, but then he met William's mother and his life changed. He moved to be near his brother and started farming the land, growing maize and tobacco, and although the family didn't have much money, life was good.<br/><br/>But then came the drought in 2001 which obviously affected the crops. The situation was terribly bad for Kamkwamba's family and considerably worse for many other people. William had to drop out of secondary school, a fact that upset him considerably as he had a thirst for knowledge. The majority of this memoir is about the family's struggle to feed themselves in such terrible circumstances.<br/><br/>William has always had an interest in science – particularly energy. He manages to make crude sources to run the family's precious radio (purchasing batteries, as a luxury, are out of the question) and eventually finds his way to the village library. There he borrows textbooks and an idea forms that, if he could bring it to fruition, would change the family's fortunes for the better. The rains finally come and although the family still struggle, things do improve. Armed with his new-found knowledge about harnessing wind to make electricity, William starts exploring the local tip for parts, and soon constructs a windmill. The villagers, and to some extent William's own family, think he's 'misala' – crazy – but with the help of his cousin Geoffrey and his good friend Gilbert (the villagers' Chief's son) William constructs a crude windmill – and it works! <br/><br/>Reported in a local newspaper, the story was blogged and quickly went spread, leading to Kamkwamba being invited to speak at conferences in Tanzania and then America. His fame led to offers of help and since the first windmill was built, William has not only brought electricity and fresh water to his home but to his village, as well as refurbishing the primary school and various other projects. William's story is truly inspirational and once I'd got into it I couldn't put it down.
Also by William Kamkwamba