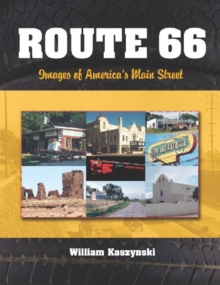 Route 66 : Images of America's Main Street
Paperback / softback
Description
Route 66 is a fixture of American culture. For the truckers, salesmen and vacationers who have travelled it and for the people who live along it, the road is a reminder of the bygone days of the American motoring experience.
Despite time, neglect and progress, Route 66 endures.
Almost all of its 2,448 miles are still intact and drivable.
Travel from Chicago to Los Angeles and experience Route 66 through this richly illustrated book.
It presents pictures of many of the historic landmarks and longtime businesses which have become roadside institutions to several generations of Route 66 travellers, plus some places that are relatively unknown to the average traveller.
Nearly all of the places shown can be visited today.
The book is also a salute to those who supported the highway over the years, including Cyrus Avery, Jack Cuthbert (""Mr. 66""), Lucille Hamon and Campbell's 66 Express.
Information
Format: Paperback / softback
Pages: 216 pages, 207 photographs (55 in colour)
Publisher: McFarland & Co Inc
Publication Date: 30/06/2013
Category: Travel & holiday guides
ISBN: 9780786477180
Also by William Kaszynski