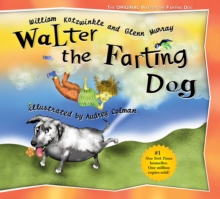 Walter the Farting Dog
Hardback
Information
Format: Hardback
Pages: 32 pages, Full-Colour Illustrations throughout
Publisher: North Atlantic Books,U.S.
Publication Date: 15/10/2001
Category: Fiction & true stories
ISBN: 9781583940532
Free Home Delivery
on all orders
Pick up orders
from local bookshops
Reviews
Showing 1 - 5 of 11 reviews.
Previous | Next
Review by DireWeevil
16/06/2015
What a magnificant book! Filled with laughs and tremendous pictures that simply cause the reader to laugh uncontrollably. A better farting book, I know not of one.
Review by EnriqueFreeque
16/06/2015
What kind of horrible message does a book like <i>Walter the Farting Dog</i> send to our precious children? That it's okay to fart? That farting is somehow...<i>funny</i>? Or that breaking wind repeatedly at an opportune time might make you the family hero someday when burglars try to rob your house?For too long our children have been brought up believing that flatulence, be it canine or Homo sapien in origin, is hysterical, something to joke about. But it's not hysterical; it's not something to joke about, and this book did not make me laugh. I swear by God it didn't.Even my three-year old knows better when it comes to excretory etiquette. When one of his older sisters toots (never me), he immediately goes all wide eyed, and declares, "ewwwww, that's dis-gus-tus!"And it is disgustus isn't it, especially when you turn every page of <i>Walter the Farting Dog</i>, a supposed <i>children's</i> book for crying out loud, only to see a big 'ol smoke cloud-illustration being rudely ejected from Walter's behind, and then wafting away like some chemical weapon of gass destruction straight into the olfactory centers of Walter's nose-plugging human companions. Thank goodness this book is not a scratch 'n sniff!When Billy and Betty's father threatens to send Walter back to the pound where, I believe, he rightfully belongs, they boo-hoo something awful as kids are prone to do, not caring, apparently, that their dear dog has turned their parent's home into a veritable fart factory! I hinted at this book's ending in the beginning so I won't spoil it here. Suffice to say, I personally prefer <i>The Cat in the Hat</i> to <i>Walter the Farting Dog</i>. A) Because <i>The Cat in the Hat</i> is about a cat and not about a dog; and, B) because <i>The Cat in the Hat</i> does not pass gas.Books about cats are just plain classier than books about dogs, anyway, because cats are classier than dogs period, particularly classier than problematically flatulent dogs like Walter. And were a cat ever to fart, which I don't think they do, but if they did, I'm just saying, they'd know to saunter off somewhere and do their business politely, in private, like a woman.All in all, some kids might like this book (I don't know why) - maybe if you make fart noises with your lips or armpits while you're reading it to them, they might like it - but I think, whatever it's worth, that <i>Walter the Farting Dog</i> stinks.
Review by bplma
16/06/2015
Poor Walter! He can't help it if all his favorite foods make him fart--loudly and stinkily. Mom and Dad -- to the dismay of their 2 kids--have issued an ultimatum...either Walter stops farting or he goes! In the end Walter's talent for stinky farts foils some thieves who break in while the family is out, and Walter the farting dog is not only safe, he's a hero!A fun to read-a-loud picture book sure to please every crowd. Colman's colorful, fantastic illustrations have a playful quality that adds to the fun.03/07
Review by JeroenBerndsen
16/06/2015
I picked this up in the states on vacation for my brother and we found it hilarious, especially the illustrations! I think any kid would totally love this book. And perhaps not just kids.... Too bad the follow-ups are so hard to come by in europe...
Review by Brooke28
16/06/2015
This is a very funny book in which Walter, the dog, can't stop farting. If the farting problem isn't solved, he will have to be given away. The family works hard at trying to solve this smelly dilemma.