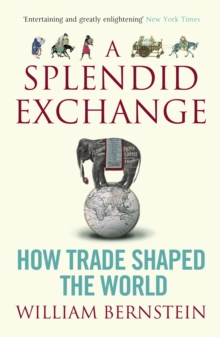 A Splendid Exchange : How Trade Shaped the World
Paperback
Description
A Splendid Exchange tells the epic story of global commerce, from its prehistoric origins to the myriad crises confronting it today.
It travels from the sugar rush that brought the British to Jamaica in the seventeenth century to our current debates over globalization, from the silk route between China and Rome in the second century to the rise and fall of the Portuguese monopoly in spices in the sixteenth.
Throughout, William Bernstein examines how our age-old dependency on trade has contributed to our planet's agricultural bounty, stimulated intellectual and industrial progress and made us both prosperous and vulnerable.
Information
Format: Paperback
Pages: 488 pages, Black and white maps, integrated illustrations and 16 page plate section
Publisher: Atlantic Books
Publication Date: 01/04/2009
Category: General & world history
ISBN: 9781843548034
Free Home Delivery
on all orders
Pick up orders
from local bookshops
Reviews
Showing 1 - 2 of 2 reviews.
Review by hazelk
16/06/2015
Although I knew a few things about trade but what I knew was mainly from the European perspective e.g. the opening up of the spice trade with the Portugese and the Dutch but this book was far more free-ranging especially early trading in the middle East and China etc. There was much information to savour but Bernstein handles all of it in a consummate and interesting manner.
Review by Popup-ch
16/06/2015
It's a very thorough look at how our world has been shaped by international trade, both intentionally (such as the creation of fashion by the East India Company in the 18th century, to increase the demand for its Indian cotton) to the unintentional (such as the Plague of Justinian, brought to the eastern Mediterranean Europe by the first opening of the overland silk route (and apparently an important factor in clearing the way for the rise of Islam a few generations later)).He comes down heavily on the side in favour of free trade, but doesn't ignore that there have always been those who have lost when trade barriers fall. The tone is occasionally almost chatty when he compares 16th century Mexican silk weavers to 21st century American auto-workers. (Both justifiably worried by cheaper Chinese imports.) He similarly compares modern-day bloggers with the 18th century pamphleteers. He even argues that America would have had a significantly larger share of international economy if GATT and similar free-trade endeavours hadn't been so successful - but the world economy would definitely have been much much smaller.Not to mention that free trade has a very strong correlation with peace. It's surely no coincidence that the only historically significant absence of war in Europe (these last 65 years) coincide with the European Common Market.
Also by William L. Bernstein