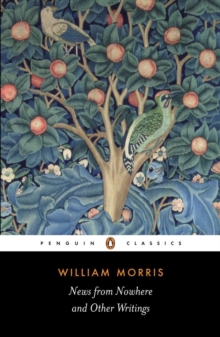 News from Nowhere and Other Writings
Paperback
Description
Poet, pattern-designer, environmentalist and maker of fine books, William Morris (1834-96) was also a committed socialist and visionary writer, obsessively concerned with the struggle to achieve a perfect society on earth.
News From Nowhere, one of the most significant English works on the theme of utopia, is the tale of William Guest, a Victorian who wakes one morning to find himself in the year 2102 and discovers a society that has changed beyond recognition into a pastoral paradise, in which all people live in blissful equality and contentment.
A socialist masterpiece, News From Nowhere is a vision of a future free from capitalism, isolation and industrialisation.
This volume also contains a wide selection of Morris's writings, lectures, journalism and letters, which expand upon the key themes of News From Nowhere.
Information
Format: Paperback
Pages: 480 pages
Publisher: Penguin Books Ltd
Publication Date: 24/06/1993
Category: Literary essays
ISBN: 9780140433302
Free Home Delivery
on all orders
Pick up orders
from local bookshops
Reviews
Showing 1 - 4 of 4 reviews.
Review by wrichard
16/06/2015
The new world on the morrow of the revolution- not sure that Robert Tressell would have been too impressed though
Review by pjhugs
16/06/2015
"One ages very quickly if one lives amongst unhappy people"This book helped shape my beliefs. I love it.
Review by kylenapoli
16/06/2015
Outside a classroom, I struggle to find the patience for these kinds of tales. My interest in Morris would probably be better served by a high-quality biography or an essay-only collection, but I would very much like to revisit this at a later date.
Review by ohernaes
16/06/2015
The narrator falls asleep and wakes up a couple of hundred years into the future. What he discovers is a socialist utopia supposedly without money ("extinct commercial morality"), property, poverty, crime, among other things. The sickness of idleness, not wanting to work, has been cured, so everyone wants to contribute. Too rose-red to ben taken seriously. Everyone is funnily polite, probably reflecting Morris' environment, and too many book-learned men is seen as not good. Occupations are mentioned as belonging to certain people.