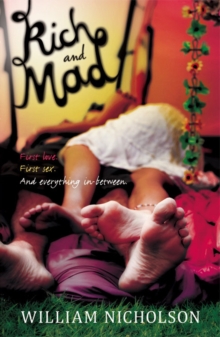 Description
The compelling and beautifully written story of first love, first sex, and everything in between from the writer behind Gladiator and Shadowlands.
Maddy Fisher has decided to fall in love. And not just any sort of love: can't-eat can't-sleep crazy in love.
Rich Ross is after the same thing. He's set his sights high, and he's going to make it happen.
The problem is, in life's messy whirlwind of friends and lies and sex and porn, the real thing can be hard to fine.
But there's always a first time for everything...Handled with the honesty and artistry of a true literary great, Rich and Mad follows two people getting to grips with what it means to be in a 'boy meets girl' situation.
A true book for teens. One of the greatest writers of our time, William Nicholson has not only sold millions of children's books worldwide through his Wind on Fire and Noble Warriors trilogies, he's also written for the screen and the stage, including the Oscar-winning film Gladiator and the BAFTA-winning play Shadowlands.
Information
Format: Paperback
Pages: 352 pages
Publisher: Egmont UK Ltd
Publication Date: 05/04/2009
Category: Fiction & true stories
ISBN: 9781405247399
Free Home Delivery
on all orders
Pick up orders
from local bookshops
Reviews
Showing 1 - 1 of 1 reviews.
Review by adrianburke
16/06/2015
For once – you can tell a book by its cover. The front illustration depicts from the feet upwards a young woman lying on top of a man with the strap line: "First love. First sex. And everything in between." The back cover bears the warning: SOME EXPLICIT CONTENT. This places it at the adult end of the spectrum of teenage literature, since there is plenty of graphic sex and a disturbing subplot concerning violence against women. Maddy Fisher has decided to fall in love. Not just any sort of love; she's decided to go all-out for can't eat, can't sleep crazy in love. "And sex," as her best mate Cath points out. Meanwhile, in another part of the sixth form, Rich Ross is after the same thing and he's decided to make it happen. The problem, the novelist suggests, is that life's not quite that simple. So, we follow Rich and Mad through a messy whirlwind of friends and deceptions and expectations until they find the 'real thing'.However, within that it is a tender, moving, unexpected and intelligent take on family life, sibling relationships, mid-life angst and, above all, first love and first sex, which examines why we always want what we can't have and don't want what is there for the taking. The central characters are wonderfully believable and in Rich, Nicholson has created a lovable, geeky antihero who worships Larkin and gets his ideas about love from a battered copy of The Art of Loving, Erich Fromm's 70s classic on human behaviour, which his friends suspect is a sex manual. He feels so real you suspect he might well be based on the author's young self. Alone among his peers, Rich refuses to have a laptop or a phone, reasoning that anyone who really wants to talk to him will actually come and find him. Teenagers of both sexes will be blown away by Maddy. She is not completely without flaws, and there are moments when you want to just grab her arm and stop her from doing things, because you just know it's a mistake, but she is just so driven! She makes a decision about something, and then simply goes for it. Mad exudes a nervous confidence that many sixth-formers would absolutely die for!This is most definitely a 'young adult' novel which is not afraid to depict sexual activity in a candid and graphic manner. However, it is done very tastefully, almost sweetly while also being very honest. 'Rich and Mad' is a novel that all young people should read – I only wish it had been around when I was hovering uncertainly on the edge of the adult chasm!!