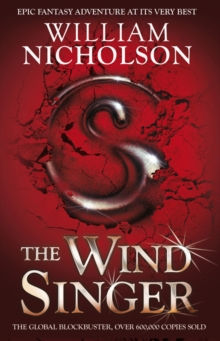 The Wind Singer
Paperback
Description
The second book in William Nicholson's award-winning epic fantasy series, Wind on Fire. `Gloriously cinematic and completely enthralling' - Independent"I hate school!
I hate ratings! I won't reach higher! I won't strive harder! I won't make tomorrow better than today!" In the walled city state of Aramanth, rules are everything.
When Kestrel Hath dares to rebel, the Chief Examiner humiliates her father and sentences the whole family to the harshest punishment.
Desperate to save them, Kestrel learns the secret of the wind singer, and she and her twin brother, Bowman, set out on a terrifying journey to the true source of evil that grips Aramanth . . . Fantasy books for children don't get more spectacular than The Wind Singer.
Since first publication, William Nicholson's Wind on Fire trilogy has been translated into over 25 languages and won prizes including the Blue Peter Book Award and Smarties Prize Gold Award.
One of the greatest writers of our time, William Nicholson's has not only sold millions of children's books worldwide, he also written for the screen and the stage, including the Oscar-winning film Gladiator and the BAFTA-winning play Shadowlands.
Information
Format: Paperback
Pages: 352 pages
Publisher: Egmont UK Ltd
Publication Date: 07/04/2008
Category: Fantasy
ISBN: 9781405239691
Other Formats
Hardback from £9.19
Paperback from £6.59
EPUB from £2.99
eAudiobook MP3 from £5.59
Free Home Delivery
on all orders
Pick up orders
from local bookshops
Reviews
Showing 1 - 2 of 2 reviews.
Review by TheoClarke
16/06/2015
Teen siblings and an outcast undertake a fearsome quest across hostile landscapes in the face of magical opponents to save their family from an over-regimented society. The richly described characters interact effectively although there is a tendency to caricature. The story is exciting and compelling with strong messages for mid-teens.
Review by sirfurboy
16/06/2015
Kestrel Hath and her Brother, Bowman, are twins in the city of Aramanth in a wonderfully imagined world full of magic and surprises. But their world is not the perfect place it once was, for the Wind Singer that overlooks their city has been broken for many years, and in the mean time the city has been overtaken by a rigidly enforced regime that ensures everyone is put to work in the place best suited to their skills and effort.From the age of 2, children are educated and examined repeatedly, and their scores are added to the scores of their parents who also undertake regular examinations. The scores then calculate their priveleges, where they may live and what colour clothing they may wear.But the Hath family think differently to other people, and they see that the system - rather than achieving a wonderful egalitarian society - actually binds them and imprisons them. And when Kestrel one day snaps in a school lesson, she awakes a chain of events that bring down the wrath of the chief examiner and set in motion something much larger and more dangerous than anyone would have believed possible.I first looked at this book when it was newly published. I picked it up to buy it, but it was on one of those "3 for 2" displays where you can get 3 books for the price of two. As I could not find 3 books I wanted I resented paying full price for it and put it back! (Waterstones take note - you would sell me more books just by discounting them a little instead!) It is a pity it took me so long to actually buy this book, becauise it is excellent. I was expecting a good fantasy story, but the story I read exceeded my expectations on two counts: 1) The characterisations were very well done, and often very amusing. The conversation Bowman had with an official as Kestrel climbed the Wind Singer had me laughing out loud. I instantly fell in love with the Hath family. Not that they were a perfect family, and you see their warts and all - particularly as the discover friendship in an unlikely place.2) The world that Aramanth sits in is a richly imagined but very fresh and non stereotyped world. I get very fed up with fantasy books that set themselves in a kind of medieval world, just because that is how Tolkien did it. But this is not one of those books. The world described here shows the ability of the author to imagine something bold and new and very engaging.The book is written with young adults as an intended audience, but adult readers should enjoy this too - and younger children may well love it too. As a rough guide, I would probably not give it to anyone much younger than 10, or older than 95 (although the latter only because the print might then be a little too small!)All in all this was a richly imagined book with good characters, some good humour and plenty of action as well as things to make the reader pause and consider afterwards - particularly on the nature of freedom.
Also in the The Wind on Fire Trilogy series | View all