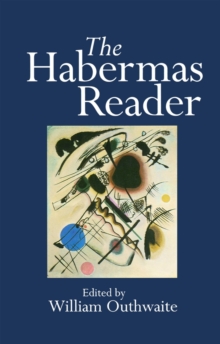 The Habermas Reader
Paperback / softback
Description
This book provides a comprehensive introduction to, and selection from, Jurgen Habermasa s writings from the early 1960s to the present.
The book is divided into seven sections, covering the principal areas of Habermasa s work.
Each section includes an introduction and a selection of substantial extracts from relevant books.
In the general introduction, Outhwaite outlines the central themes of Habermasa s work and analyses the development of his views over the years.
Subsequent sections are organized thematically and chronologically, so that the book will be easy to use by students.
There are extracts from all of Habermasa s major works, including his early work on the public sphere and on science and technology; his writings on the methodology and epistemology of the social sciences; his work on evolution and legitimation; his theory of communication and discourse ethics; his analysis of modernity and his critique of postmodernism; and his most recent work on law and the state.
By bringing these wide--ranging contributions together in a single volume, The Habermas Reader is an ideal teaching text. It will also be of interest to anyone who wishes to gain an overview of the work of one of the most important social thinkers of the twentieth century.