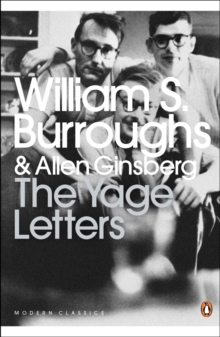 The Yage Letters : Redux
Paperback
Description
William Burroughs closed his classic debut novel, Junky, by saying he had determined to search out a drug he called 'Yage' which he believed transmitted telepathic powers, a drug that could be 'the final fix'.
In The Yage Letters - a mix of travel writing, satire, psychedelia and epistolary novel - he journeys through South America, writing to his friend Allen Ginsberg about his experiments with the strange drug, using it to travel through time and space, to derange his senses - the perfect drug for the author of the wild decentred books that followed.
Years later, Ginsberg writes back as he follows in Burroughs' footsteps, and the drug worse and more profound than he had imagined.
Information
Format: Paperback
Pages: 192 pages
Publisher: Penguin Books Ltd
Publication Date: 06/11/2008
Category: Diaries, letters & journals
ISBN: 9780141189864
Free Home Delivery
on all orders
Pick up orders
from local bookshops
Reviews
Showing 1 - 1 of 1 reviews.
Review by edwinbcn
16/06/2015
Some of the prose of William S. Burroughs defies classification, which is one of the strongest suggestions of its author's inventiveness and originality. For example, Exterminator! has long been regarded as a short story collection, as that is what it looks like, but is now considered to be an experimental novel. The Yage letters, both in its form, and the suggestive title, led critics believe that it consists of correspondence, although that view is hard to reconcile for the work as a whole. The first part of The Yage letters, i.e. "In search of yage (1953)" looks like an (edited) collection of letters, but the subsequent parts consist of prose fragments and poetry. These other fragments were not included in all previous editions, leading to the discussion as to whether they are or are not part of the work as a whole. Doubt has also been cast on the true nature of these parts, as some of it looks like poetry, but possibly should not be considered as such. There are also critics, who have suggested that The Yage letters is, in fact, a novel.In The Yage Letters Burroughs records his travels visiting the Amazon rainforest and his search for yagé (ayahuasca), a plant which produces a drug with near-mythical hallucinogenic and some say telepathic qualities. The book also explores the way the Indians consumed and used this powerful drug. Along the way, Burroughs and Alan Ginsberg relate other stories, ideas and concepts, some of which Burroughs would later use in other novels.The Yage letters. Redux, with the added subtitle "Redux" refers toy the new edition (2006), edited by Oliver Harris. It is a very well-documented edition, preceded by a long introduction by the editor. In this essay, Oliver Harris proposes that The Yage letters be seen as a travelogue. His conclusion is based on textual analysis and history of the manuscripts and writing process, which shows that, although some of the letters by Alan Ginsberg are authentic, much of the correspondence written by Burroughs is not, that is to say, they are written as letters, but were originally conceived of as prose, and were never sent. Out of 9,500 words in the manuscript only 320 came from authentic letters (p. xxxii). The Yage letters was in its origins not written in epistolary form.Furthermore, the editor points out that Burroughs interest in Yage was not only driven by his obsession with drugs. As a graduate student at Harvard, Burroughs trained and an anthropologist, while he also, eclectically, studied Medicine during his time spent in Vienna. Burroughs also sought funding to investigate and describe the source and culture of the usage of Yage.Particularly the first part of The Yage letters is very readable, and of considerable interest. It consists of travel writing into South American involving both anthropological and botanical descriptions. The travelogue shows William S. Burroughs as an excellent prose stylist. It has characteristics of an adventure story, and is profoundly personal. To some readers, a number of expletives may be disturbing, but such use of language was to be expected in Burroughs work, anyway. Surprisingly, the travelogue also mixes in some sensuous descriptions involving Burroughs interest in young men.The long introduction by the editor of The Yage letters. Redux, Oliver Harris, is a jewel. It does not only introduce and describe the history of the work, but also provides an excellent description, updated for the latest literary criticism, of the circle of the Beat Generation, and the co-operation between William S. Burroughs and Alan Ginsberg on this work.The Yage letters. Redux is by far the most readable and most beautiful text that I have read by Burroughs.
Also in the Penguin Modern Classics series | View all