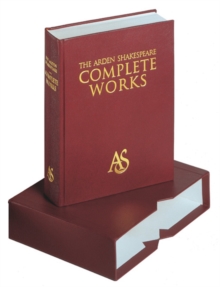 Arden Shakespeare Complete Works
Hardback
Description
The Arden Shakespeare Complete Works leatherbound collector's edition contains the texts of all Shakespeare's plays, including The Two Noble Kinsmen, which has only recently been widely accepted as partly written by Shakespeare, and also the Poems and Sonnets. The play and verse texts are edited by leading academics, in the light of current scholarship on the different versions of the text available.
Brief introductions to each play, written specially for this volume by the three Arden Shakespeare General Editors, discuss the date and contemporary context of the play, its position within Shakespeare's oeuvre, and its subsequent performance history.
An extensive glossary explains vocabulary which may be unfamiliar to twentieth-century readers. A general introduction, also by the Arden General Editors, gives the reader an overall view of how and why Shakespeare has become such an influential cultural icon, and how perceptions of his work have changed in the intervening four centuries.
The introduction summarises the known facts about the dramatist's life, his reading and use of sources, and the nature of theatrical performance during his lifetime. The Arden Shakespeare Complete Works leatherbound collector's edition offers a sound, reliable, classic edition of Shakespeare's work in an exquisitely presented volume, with marbled end-papers and a ribbon marker, that will appeal to book collectors and Shakespeare lovers throughout the world.
Information
Format: Hardback
Pages: 1360 pages
Publisher: Bloomsbury Publishing PLC
Publication Date: 02/11/2000
Category: Shakespeare plays
ISBN: 9781903436394
Other Formats
Paperback from £20.09
EPUB from £21.84
PDF from £21.84
Hardback from £27.09
Free Home Delivery
on all orders
Pick up orders
from local bookshops
Reviews
Showing 1 - 2 of 2 reviews.
Review by keylawk
16/06/2015
MEASURE FOR MEASURE. The Duke of Vienna gets tired of enforcing laws involving public morality. He takes a leave of absence "to travel". Instead, the Duke disguises himself as a friar and spies on his Deputy, Angelo, who takes control. Young Claudio violates the public morality laws. Angelo is determined to enforce the law, making an example of Claudio.Shakespeare seems to be making a point about hypocrisy, pointing a finger at those who accuse others publicly, but privately TUO QUOQUE. The play's theme also challenges having different rules for commoners and rulers. WS exposes the corruption of those in power, and human fallibility.MUCH ADO ABOUT NOTHING. Comedy and love story taking place during Medieval times. The protagonist is Count Claudio, who returns victorious from wars and falls for Hero, the daughter of his best friend. Claudio and Hero try to marry while a second couple swear off marriage and even love. The play features classic tropes invoked to this day: Love-at-first-sight, the pair who seem to hate each are meant for each other, and the distraction of genitals to serious things. The play rolls with innuendos, double entendres and puns.ROMEO AND JULIET. Teenage boy and girl from rival gangs in Verona, the Montagues and Capulets. No one approves of the relationship, and obstacles to any future happiness are set in place by the feuding families, who at least enjoy this common ground. The couple conjoin against all odds and deliberations. But only to be drawn to great tragedy, really by the power of their love. The play reveals timeless themes: the allure of love at first sight; challenging authority figures; the flight from one's parents and into adulthood; the passage of time; and the role of destiny. Different generations and phases of our own lives may reveal different themes. Shakespeare toys with love as merely physical attraction? Legal contract? Is love mostly about romance? How can you know if love is true? And of course, Mercutio asks grave questions. Shakespeare gives no clear answers, leaving it to the audience to meditate on the meaning of a passionate life, and the utter depraved futility of tribal hatreds.MERCHANT OF VENICE. This play comedic with intense and tragic scenes. I have laughed and wept often in the same scene!We are engaged with the merchant Antonio and the moneylender Shylock in high risk money-lending with erupting effects of money lending/borrowing, greed, social classes, and anti-Semitism. Matchless speeches and soliloquies. The character Shylock and a female lawyer Portia, engage in a beautifully written opening and closing arguments at trial.
Review by belleyang
16/06/2015
Too often we associate Shakespeare with gloss. It is a pleasure to read the Bard as he was read in the original, sans line numbering and explanation. You'll surprise yourself to find that can ride this vehicle without the training wheels!
Also in the Arden Shakespeare series | View all