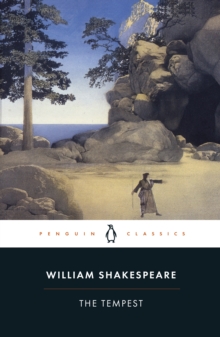 Description
Performed variously as escapist fantasy, celebratory fiction, and political allegory, The Tempest is one of the plays in which William Shakespeare's genius as a poetic dramatist found its fullest expression.
This Penguin Shakespeare edition is edited with an introduction by Martin Butler.'How many goodly creatures are there here!How beauteous mankind is!
O brave new world,That has such people in't!'A storm rages.
Prospero, his daughter Miranda, and his monstrous servant Caliban watch from their desert island as a ship carrying the royal family is wrecked.
Miraculously, all on board survive. Plotting, mistaken identities, bewitching love and drunkenness follow as the travellers explore the strange place of spirits and monsters on which they have landed.
They soon begin to realize all is not as it seems, in a play whose magical setting and classical unity of time and place have inspired films as varied as Forbidden Planet, Peter Greenaway's Prospero's Books, and Julie Taymor's The Tempest, starring Helen Mirren as 'Prospera'.This book contains a general introduction to Shakespeare's life and Elizabethan theatre, a separate introduction to The Tempest, a chronology, suggestions for further reading, an essay discussing performance options on both stage and screen, and a commentary.If you enjoyed The Tempest, you might like The Merchant of Venice, also available in Penguin Shakespeare.'Shakespeare, coming upon me unawares, struck me like a thunderbolt'Hector Berlioz
Information
Format: Paperback
Pages: 240 pages
Publisher: Penguin Books Ltd
Publication Date: 29/10/2015
Category: Shakespeare plays
ISBN: 9780141396309
Other Formats
Paperback from £1.99
CD-Audio from £8.59
Free Home Delivery
on all orders
Pick up orders
from local bookshops