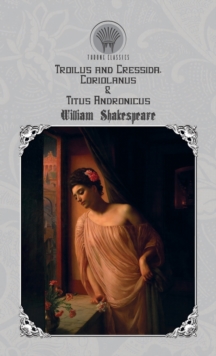 Troilus and Cressida, Coriolanus & Titus Andronicus
Hardback
Description
Troilus and Cressida is a tragedy by William Shakespeare, believed to have been written in 1602. The play (also described as one of Shakespeare's problem plays) is not a conventional tragedy, since its protagonist (Troilus) does not die. The play ends instead on a very bleak note with the death of the noble Trojan Hector and destruction of the love between Troilus and Cressida. Throughout the play, the tone lurches wildly between bawdy comedy and tragic gloom, and readers and theatre-goers have frequently found it difficult to understand how one is meant to respond to the characters.
Coriolanus is a tragedy by William Shakespeare, believed to have been written between 1605 and 1608. The play is based on the life of the legendary Roman leader Caius Marcius Coriolanus. The tragedy is one of the last two tragedies written by Shakespeare, along with Antony and Cleopatra.
Coriolanus is the name given to a Roman general after his more than adequate military success against various uprisings challenging the government of Rome. Following this success, Coriolanus becomes active in politics and seeks political leadership. His temperament is unsuited for popular leadership and he is quickly deposed, whereupon he aligns himself to set matters straight according to his own will. The alliances he forges along the way result in his ultimate downfall.
Titus Andronicus may be Shakespeare's earliest tragedy; it is believed to have been written sometime between 1584 and the early 1590s. It depicts a Roman general who is engaged in a cycle of revenge with his enemy Tamora, the Queen of the Goths. The play is by far Shakespeare's bloodiest work. It lost popularity during the Victorian era because of its gore, and has only recently begun to revive its fortunes.
Information
Format: Hardback
Pages: 600 pages
Publisher: Throne Classics
Publication Date: 31/08/2019
Category: Plays, playscripts
ISBN: 9789353836863
Other Formats
Paperback / softback from £29.05
Hardback from £23.95
Free Home Delivery
on all orders
Pick up orders
from local bookshops