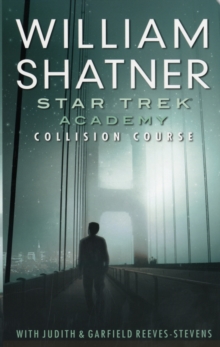 Collision Course : The Academy
Paperback
Part of the Star Trek series
Description
No one knows Captain James T. Kirk better than William Shatner, who portrayed him throughout Star Trek, the Original Series, and seven subsequent Star Trek feature films, making him in the process one of the most iconic and instantly recognizable science fiction characters on the planet.
Since then, William Shatner has continued to explore and expand the career of Captain Kirk in no less than nine successful Star Trek novels.
Now he turns his attention to the one part of Kirk's backstory that still remains a tantalising mystery, and one that his fans have always wanted to read -- his formative years at Starfleet Academy.
Information
Format: Paperback
Pages: 384 pages
Publisher: Simon & Schuster
Publication Date: 01/12/2008
Category: Space opera
ISBN: 9781416503972
Free Home Delivery
on all orders
Pick up orders
from local bookshops
Reviews
Showing 1 - 3 of 3 reviews.
Review by whjensen
16/06/2015
Go back in time to a James T Kirk is a...Well, he's a young punk. And Spock is struggling through an identity crisis of who he is - Vulcan or human. Throw them together and join old friends 20 years before you knew them.Shatner's book, Collision Course, defies other Star Trek books (and most likely the movie coming out) and seeks to show Spock and Kirk in their first meeting. I'm not a big Star Trek book fan. In fact, this is the first I've ever read. But I think I've seen all the episodes. That is an advantage here, because I can revel in Shatner putting on a character he knows better than anyone else. This is not literary classic time here, folks, but a guilty pleasure. Character development? Pshaw. Good writing? Go read Edgar Sawtelle. This is merely FUN, with a capital F-U-N.The danger of a book like this, and Shatner does go off the rails, is a loose plot with deus ex machina. There are stretches of the book where the author seeks to delve into his television character more deeply or tries to psychoanalyze Spock. Good in small amounts, Shatner risks going too far. Likewise, he introduces elements that go beyond setting aside reality. He has a group of a few raw cadets steal a most advanced starship. Something straight out of...the third movie, but done by the characters of the tb show after years doing their jobs.So..do you like a ride? Did you grow up watching Star Trek but set it aside? Can you forgive an oldish man his literary jaunt to his past, with loads of "Huh? He can't have really meant that, could he?" moments? Then read it. It's fun, it's light, and you get the sense that William Shatner is not ready to be done being Captain Kirk.
Review by lycomayflower
16/06/2015
This is a story of teen-aged Jimmy Kirk and how he ended up on the path to becoming Starfleet captain and legend James Tiberius Kirk. There's at least one other Star Trek novel which follows this same premise, though that story is very different. Yet, however many permutations of young!Kirk we get (I know of three: this novel, Diane Carey's Best Destiny, and Star Trek XI), there's one constant: Kirk is always portrayed as a troubled, rebellious, smart kid who only ends up on his way to greatness because an honest, weather-worn Good Man (TM) takes an interest him. I'm okay with that as a cultural myth for everyone's favorite captain of the Enterprise, but I wonder where it comes from, as it seems to be in direct conflict with canon (Kirk tells Bones, in the episode "Shore Leave," that he was studious and "positively grim" as a first-year cadet--hardly the image of a just reined-in trouble-maker). Anyroad, point being that this is a fun vision of Kirk as a teenager. There's a plot, and it holds together alright, but the point of it (and the book) is to let Jimmy Kirk run around being troubled and smart and charming. This it does well. All kinds of points, too, for Kirk's interactions with a young Spock; for the appearances of Sam and George Kirk, and Finnegan and Mallory; and especially for the exploration of what happened to a fourteen-year-old Kirk on Tarsus IV and how those events shaped him afterward.
Review by Jennifer35k
16/06/2015
The idea of putting Spock and Kirk together when they were young and attending academy was amazing! William Shatner is one hell of a writer and I loved this book. I read this book in about 3 days and have hung onto it for several years. I will not go into the story since I do not want to give anything away, but if you are interested in the younger years than you should pick up this book. Well, pick this book up for its sexiness! LOL!