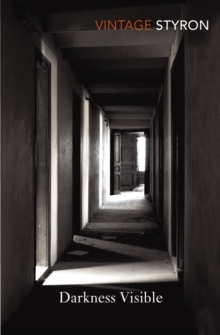 Darkness Visible
Paperback
Description
This is a story of depression a condition that reduced William Styron from a person enjoying life and success as an acclaimed writer, to a man engulfed and menaced by mental anguish.
With profound insight and remarkable candor, Styron tracks the progress of his madness, from the smothering misery and exhaustion, to the agony of composing his own suicide note and his eventual, hard-won recovery.
Illuminating an illness that affects millions but which remains widely misunderstood, this book is about the darkness of depression, but it is also ultimately about survival and redemption.
Information
Format: Paperback
Pages: 112 pages
Publisher: Vintage Publishing
Publication Date: 01/04/2001
Category: Autobiography: general
ISBN: 9780099285571
Free Home Delivery
on all orders
Pick up orders
from local bookshops
Reviews
Showing 1 - 4 of 4 reviews.
Review by elliepotten
16/06/2015
For such a short book, this packs quite a punch, particularly for someone with experience of depression. In this honest and powerful memoir, Styron recounts his descent from a mild sense of unease into a vortex of madness and suicide. His eloquent and accessible prose accurately depicts the workings of his mind and the gradual closing down of each facet of his physical and mental normality, until he is hospitalized on the verge of killing himself. Throughout his description of his own experience he also muses on literary friends' illness and suicides, the artistic tendency to madness, the mundanity of the word 'depression', the dangers of antidepressant drugs versus their merits, and the attitudes of others around him. Styron does not claim to be an expert on these issues but addresses them thoughtfully and fairly, making no pretence at speaking for every sufferer of this illness but instead encouraging understanding and compassion. In the end, the message is also one of hope - if you can survive the crisis point there is light at the end of the tunnel and normality and happiness will eventually return.
Review by bibliobibuli
16/06/2015
This is a very slim volume, just 84 pages long, which started life as a lecture given at a symposium sponsored by the Department of Psychiatry at the Johns Hopkins University School of Medicine. It was later developed into a piece for Vanity Fair before being published as a book.Styron was hit by serious depression at the age of 60, and describes most evocatively his own struggle with the life-threatening illness from first symptoms, through his treatment, his brush with suicide, hospitalisation to eventual cure. Along the way he includes the stories of friends and others so afflicted - many of them also writers.It's the honesty of the book that makes it so compelling. It was one of the first "insider" accounts of depression, and captures extremely well just what it feels like. (You have to have been there to know.) I agree with him that the word "depression" is totally inadequate, sounding more like a mild case of the blues rather than something that fills your soul with dread and despair.
Review by polarbear123
16/06/2015
This book does reflect exactly the feeling of severe depression, there is no doubt about that. Reviews which did not connect with it overwhelmingly have come from people who confess that they themselves have not known depression. This is the closest I have got to reading a book that reflects how I have felt with my struggle with depression. I have read a few. I did not find this book to be full of self pity but realism about the actual disorder. One for people who have experienced it really - as Styron says , people outside the disorder will never be able to understand it, and it therefore follows that they will never fully be able to connect with this book.
Review by soylentgreen23
16/06/2015
This was my first encounter with Styron, and let me tell you, when I finally finished the book on that first sitting, I immediately dashed off to Amazon to take a look at the other books of his that are available. Though a slim volume, his extended essay on the nature of depression is one of the most penetrating I have come across.