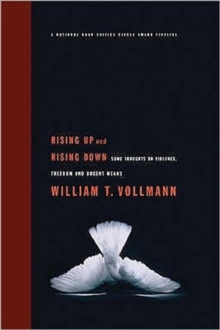 Rising Up and Rising Down : Some Thoughts on Violence, Freedom and Urgent Means
Hardback
Description
The authorized, abridged edition of the 3,000-page, seven-volume magnum opus, which was nominated for the US National Book Critic's Circle Award.
The LA Times has said of Vollmann: 'He has an uncompromising intelligence that will change the way you think about all of history.' In this book, a labour of twenty-three years, Vollmann will change the way you think about violence.
Vollmann brings to this subject compelling logic, knowledge, research and authentic experience.
His research is legendary. He has immersed himself in the hazardous worlds he covers and has put himself in harms way.
He has been burned by skinheads, nearly frozen to death on the Arctic tundra, and almost blown to pieces by a mine in Bosnia which killed two of his friends.
The history of the world is a history of violence. Vollmann looks at violence through the prism of ethics, and honestly addresses both its value and waste.
Rising Up, Rising Down is Vollmann's meditation on the age-old conundrum: when is violence justified?Vollmann writes: 'My own aim in beginning this book was to create a simple and practical moral calculus which would make it clear when it was acceptable to kill, how many could be killed and so forth.' Vollmann has consulted hundreds of sources, scrutinizing the thinking of philosophers, theologians, tyrants, warlords, military strategists, activists and pacifists.
He has visited more than a dozen countries and war zones to witness violence firsthand - sometimes barely escaping with his life.
The result is a deeply personal book, full of insight, that is a major publishing event, hailed by Zembla magazine as possibly 'the most ambitious literary project ever'.
Information
Format: Hardback
Pages: 752 pages, Illustrations
Publisher: Duckworth Overlook
Publication Date: 27/01/2005
Category: Ethics & moral philosophy
ISBN: 9780715633748
Free Home Delivery
on all orders
Pick up orders
from local bookshops
Also by William T. Vollman