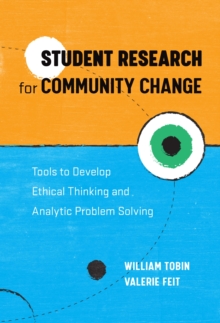 Student Research for Community Change : Tools to Develop Ethical Thinking and Analytic Problem Solving
Paperback / softback
Description
This guide teaches middle, high school, and college students how to reflect on what is right, good, and fair and then undertake research to address challenges in their curriculum and communities.
The approach is deliberately designed to make it easy to bring ethical thinking and analytical problem-solving to the social studies and STEM curricula, as well as to experiential and inquiry-based learning such as project-based and service learning. Organized around the steps in the social science research method, each step can be linked to curriculum and national standards and taught individually as stand-alone lessons or sequentially as part of a semester or yearlong research seminar. The text includes sample lesson plans, assignments, research questions, research tools, and research reports, as well as examples of concrete policy implementation and the kinds of evidence that can be used to assess and evaluate student work.Book Features:Combines research and citizenship so students can bring knowledge to bear on the most important challenges facing them.
Designed for use with diverse students in inclusive classrooms. Developed in a university setting and field tested for over a decade in high schools.
Connects K-12 to college and career in an organic and substantive manner.
Works with and compliments curriculum that teachers are already using.
Information
Format: Paperback / softback
Pages: 277 pages
Publisher: Teachers' College Press
Publication Date: 30/06/2020
Category: Educational strategies & policy
ISBN: 9780807763803