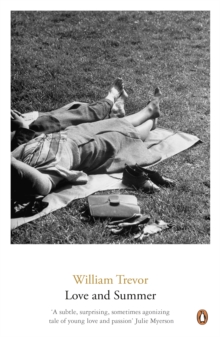 Love and Summer
Paperback
Description
Love and Summer - a remarkable, heart-rending novel by acclaimed writer William Trevor 'Lingers in the memory as a beautiful meditation on love, belonging and the impossibility of escape' Observer 'Unbearably moving' Spectator It is summer and a stranger has come to quiet Rathmoye.
He is noticed by Ellie, the young convent girl, who is married to Dillahan, a farmer still mourning his first wife.
Over the long and warm days, Ellie and the stranger form an illicit attachment. And those in the town can only watch, holding their tongues, as passion, love and fate take their inevitable course. 'A portrait of a brackish rural backwater, complete with family tragedy, sexual scandal, a repressed spinster and a half-crazed ancient retainer ...delicate, elegiac, written with all Trevor's trademark compassion and understanding' Daily Mail 'A series of wrenching human dramas, which Trevor depicts with kindness and beautiful delicacy' Sunday Telegraph 'Brilliant.
Trevor is the ultimate Old Master' Evening Standard 'Beautiful.
A flawless work of art' Independent on Sunday Readers of The Story of Lucy Gault and Felicia's Journey will adore Love and Summer. It will also be cherished by readers of Colm Toibin and William Boyd.
William Trevor was born in Mitchelstown, County Cork.
He has written eighteen novels and novellas, and hundreds of short stories, for which he has won a number of prizes including the Hawthornden Prize, the Yorkshire Post Book of the Year Award, the Whitbread Book of the Year Award and the David Cohen Literature Prize in recognition of a lifetime's literary achievement.
In 2002 he was knighted for his services to literature.
His books in Penguin are: After Rain; A Bit on the Side; Bodily Secrets; Cheating at Canasta; The Children of Dynmouth; The Collected Stories (Volumes One and Two); Death in Summer; Felicia's Journey; Fools of Fortune; The Hill Bachelors; Love and Summer; The Mark-2 Wife; Selected Stories; The Story of Lucy Gault and Two Lives.
Information
Format: Paperback
Pages: 224 pages
Publisher: Penguin Books Ltd
Publication Date: 29/04/2010
ISBN: 9780141042190
Free Home Delivery
on all orders
Pick up orders
from local bookshops
Reviews
Showing 1 - 3 of 3 reviews.
Review by dmsteyn
16/06/2015
And summer's lease hath all too short a date… - William ShakespeareWilliam Trevor is, without a doubt, a painter in words. His latest novel, Love and Summer (2009), amply speaks to his ability to capture human joy and heartache in prose that never loses its artistic intensity. Trevor has the peculiar ability to depict quiet, unobtrusive lives in an interesting, even arresting way. The brushstrokes on his small canvas are never overly-dramatic, but they paint a beautifully-realised, impressionistic watercolour of 20th-century Irish life.In Love and Summer, a stranger, Florian Kilderry, arrives in the small town of Rathmoye. He catches the eye of Ellie, a young woman who grew up in a convent, but who is now married to an older farmer, Dillahan. Ellie and Florian's relationship begins innocently enough, but it quickly becomes more serious as the long summer days stretch out ahead of them. Ellie and Florian are careful to avoid the scrutiny of the Rathmoye townsfolk, but will they be able to keep their relationship a secret? And what happens when Florian has to leave Ireland at the end of the summer?Trevor answers both these questions, but not with the expected results. He is much too skilled a writer to go for clichéd plot points. And if the story sounds familiar and simplistic, don't believe that for a moment. Trevor constantly serves up unexpected human dramas, without making them gratuitous or melodramatic. His delicate touch can be seen in the way he carefully withholds some information, only to reveal it later to devastating effect.All of his characters are beautifully human – they feel "real", without having unnecessary tics and quirks to lend them verisimilitude. Ellie and Florian's love story is quite typical, but magical for all that. And farmer Dillahan's own tragic past lends his situation a rare poignancy: Ellie's choice between him and Florian will eventually rest on her reconciling her conscience with her decision. I won't say any more about it, but I thought Trevor handled it brilliantly.I cannot really fault Love and Summer. It reminded me a lot of Thomas Hardy's novels, though it is perhaps a bit of a less ambitious and more quiet book. But it does what it does so beautifully and realistically, that I was deeply moved and impressed. Trevor is definitely "the ultimate Old Master", as one of the blurbs on the book claims.
Review by yooperprof
16/06/2015
I don't like to give that 5th star very often - this is the first "5 star" novel that I've read this year. But from my perspective, William Trevor deserves the highest accolade for absolutely "getting" the time and place of his tender love story: rural Ireland around 1960. Here he skillfully delineates one of the classic "Trevorian tropes": the decaying Anglo-Irish gentry and their ruined "great house". There's also the sweet, pure Irish lass who is the embodiment of traditional love. Maybe if you've never read him before, this shouldn't be your first William Trevor novel. But if you have, you can be certain that in "Love and Summer" you will find the wistful wry humor and the seriously fine prose style that has made him one of the best Irish writers of our times.
Review by Luli81
16/06/2015
"Love and summer" is an ordinary story of common people set in the Ireland of the fifties, when women weren't able to choose and lives were spent working and doing your duty without thinking too much about what could have been.Ellie is a young married woman, whose husband is a farmer, a widower much older than she. He is a good person, he treats her alright, meaning he doesn't abuse her. After having tried for some years to have children and not being able to, Ellie has accepted her fate and she is sort of contented with her ordinary life in the farm.Everything changes when she meets a young photographer, Florian, with whom she falls in love almost at first sight. As the illicit affair develops, and she gets more and more tangled, Florian continues with his own plans of abandoning Ireland for good, wanting to leave his past and Ellie behind.A sad and unromantic story, a cross of paths which don't leave track, lacking chemistry and imagination. The dialogues were rather dull and slow and the characters were only described on the surface, I felt as I didn't know them well enough to judge.The book fell too short from my expectations, I wouldn't recommend it as a good reading, not even for a boring Sunday evening.