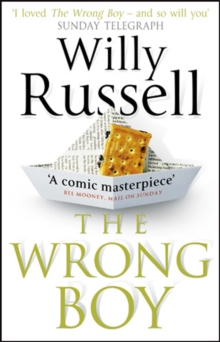 Description
The Dewsbury Desperadoes are on their way to Pontefract for a gig at the Allied Butchers' & Architects' Club.
The Girl with the Chestnut Eyes is on her way to somewhere. And Raymond is heading for Gulag Grimshy. Raymond Marks is a normal boy, from a normal family, in a normal northern town.
His dad left home after falling in love with a five-string banjo; his fun-hating grandma believes she should have married Jean-Paul Sartre: '1 could never read his books, but y' could tell from his picture, there was nothing frivolous about John-Paul Sartre.' Felonious Uncle Jason and Appalling Aunty Paula are lusting after the satellite dish; frogs are flattened on Failsworth Boulevard; and Sickening Sonia's being sick in the majestic cathedral of words. Raymond Marks is a normal boy, from a normal family, in a normal northern town.
Until, on the banks of the Rochdale Canal, the Flytrapping craze begins and, for Raymond and his mam, nothing is ever quite so normal again. In Raymond, prize-winning and internationally acclaimed playwright Willy Russell has created an unforgettable character to rival his Shirley Valentine and educated Rita.
The Wrong Boy is his extraordinary first novel.
Information
Format: Paperback
Pages: 512 pages
Publisher: Transworld Publishers Ltd
Publication Date: 31/03/2001
ISBN: 9780552996457
Other Formats
EPUB from £4.99
eAudiobook MP3 from £6.79
Free Home Delivery
on all orders
Pick up orders
from local bookshops
Reviews
Showing 1 - 3 of 3 reviews.
Review by atia
16/06/2015
This one came recommended to me by two colleagues. I have to admit, after the first two hundred pages or so I was so upset I found it hard to see why they liked it so much. It's told from the perspective of a 19-year-old boy named Raymond who's on his way to Grimsby, where he's supposed to start a proper job. On his way, he's writing a diary/ letters to Morrissey describing his journey so far, i.e. the story of his life. And for much of that life, nothing good ever seems to happen.I found it horribly depressing to a point where I almost couldn't read on, but in the end I'm glad I did. It does have a lot of comic moments, and it's really well written, and the resolution is quite good. It's a - not quite celebration of the outsider status, a book about how it's okay to be different. And it's definitely one of the better of its kind, if only because it has the Smiths ;)
Review by presto
16/06/2015
Hilarious, moving and enthralling, a story told by young Raymond, a "not normal" boy, in his letters written to Morrissey. His troubles start with some innocent boys' games by the canal, misunderstood as a perversion by teachers and parents, and escalate from there. He describes his relationships with his family: confused mother, loving ally of a grandmother, horrendous uncle, and he enjoys the friendship of some slightly odd peers and other interesting characters as he progresses. Even at its most moving, the humour still shines through. An intriguing and gripping plot, it is tempting to rush ahead to discover what happens next, but to do so means sacrificing the sheer joy of reading Raymond's ramblings. Beautifully written, very entertaining and truly involving, this is to be highly recommended.
Review by veronicay
16/06/2015
I only mooched this to make up a 3-book mooch with another book that I really wanted. What a surprise! I know Russell as a playwright; I saw the original productions of Breezeblock Park, Educating rita, and Shirley Valentine back in the 70s and 80s. Russell's ear for dialogue and storytelling is well to the fore here; many of the chapters could stand alone as dramatic monologues, especially the hilarious accounts of the country singers and the coachload of Rotarians.Raymond is the "wrong boy", always in the wrong place at the wrong time, turned from hero to zero by adult misinterpretation of a silly game. From then on he is betrayed or misunderstood by almost everyone he encounters (especially the adults) and what starts as comedy ends in tragedy when he is committed to a mental institution.Russell has always been brilliant at mingling comedy and pathos and he doesn't fail here, although I felt the happy ending was rather weak. Of course the actual events in the story are not particularly realistic, but they way they are twisted by adults to make the odd and imaginative Raymond something he is not is horribly convincing. I really enjoyed reading this.