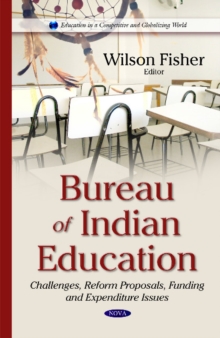 Bureau of Indian Education : Challenges, Reform Proposals, Funding & Expenditure Issues
Hardback
Description
Unlike public schools, Bureau of Indian Education (BIE) schools receive almost all of their funding from federal sources.
BIE directly operates about a third of its schools, and tribes operate two-thirds.
BIE, within Interior's office of Indian Affairs, oversees 185 schools, serving about 41,000 students on or near Indian reservations.
BIE's mission is to provide students with a quality education.
However, BIE student performance has been consistently below that of public school students, including other Indian students.
This book examines how funding sources and expenditures of BIE schools compare to those of public schools; the extent to which BIE has the staff and expertise needed to oversee school expenditures; and the extent to which BIE's processes for oversight adequately ensure that school funds are spent appropriately.
Information
Format: Hardback
Pages: 113 pages
Publisher: Nova Science Publishers Inc
Publication Date: 01/06/2015
Category: Educational psychology
ISBN: 9781634823364