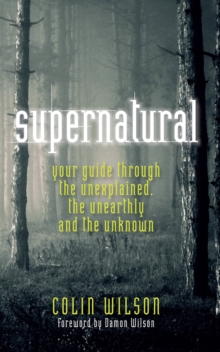 The Supernatural
Paperback
Description
It's the hot genre of the decade so far, and now Colin Wilson lends his weight to the subject of the Supernatural, in this far-reaching encyclopedia of whole spectrum of supernatural phenomena from ghosts and poltergeists to reincarnation, and from precognition and 'psychic detection' to magic and demonic possession.
In these pages we meet real-life vampires, doppelgangers, witches and magicians; and we learn about elemental theory, Odic forces, Atlantis, ley lines, UFOs, crop circles, Velikovsky's 'worlds in collision' theory of the origins of the planet Venus - and much else besides.
Anyone who loves the mystery and excitement of vampires, werewolves, psychics and other supernatural occurrences will enjoy this book.
An authoritative yet entertaining author, Colin Wilson tells you everything you ever needed to know in a book that you'll love to read.
Information
Format: Paperback
Pages: 592 pages
Publisher: Watkins Media
Publication Date: 01/01/1999
Category: Occult studies
ISBN: 9781907486555
Free Home Delivery
on all orders
Pick up orders
from local bookshops
Reviews
Showing 1 - 2 of 2 reviews.
Review by Arten60
16/06/2015
Excellent book with plenty to get your teeth into. Having read it I am baffled by those who claim there is no evidence for the paranormal. Those people need to read this book and do some of their own research.There are more things in Heaven and Earth, Horatio, than are dreamt of in your philosophy.William ShakespeareThe only criticism is no bibliography which hampers one, when one wants to do some cross referencing.
Review by skirret
16/06/2015
Although I'm a huge fan of Wilson's work and have read most of his books, this gets only one star. <br/><br/>Maybe I should have read the blurbs a little more carefully, but I was disappointed to find that "Supernatural" is a compendium of some of Wilson's earlier works. It does have an original preface and foreword by both Wilson and his son (who put together this condensed version), but those hardly make up for what is basically a reprint.<br/><br/>