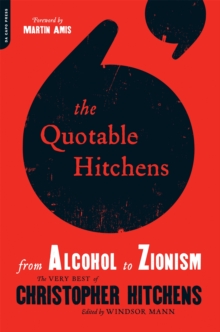 The Quotable Hitchens : From Alcohol to Zionism--The Very Best of Christopher Hitchens
Paperback
Description
Over the past few decades, the bestselling author of Hitch-22 has crisscrossed the globe debating religious scholars, Catholic clergy, rabbis, and devout Christians on the existence of God- appearances that have attracted thousands of people on both sides of the issue.
He has been invited to talk shows and events to discuss everything from the death of Jerry Falwell to the sainthood of Mother Teresa, from U.S. policy in the Middle East to the dangers of religious fundamentalism and beyond. And he is always armed with pithy discourse that is as intelligent as it is quotable. The Quotable Hitchens gathers for the first time the eminent journalist, public intellectual, and all-around provocateur Christopher Hitchen's most scathing, inflammatory, hilarious, and clear-cut commentary from the course of his storied career.
Drawn from his many TV appearances, debates, lectures, interviews, articles, and books, the quotations are arranged alphabetically by subject- from atheism and alcoholism to George Orwell and Bertrand Russell, from Islamofascism and Iraq to smoking and sex.
Information
Format: Paperback
Pages: 352 pages
Publisher: INGRAM PUBLISHER SERVICES US
Publication Date: 10/05/2011
ISBN: 9780306819582
Free Home Delivery
on all orders
Pick up orders
from local bookshops
Reviews
Showing 1 - 2 of 2 reviews.
Review by quantum_flapdoodle
16/06/2015
Reading a book of quotes by Christopher Hitchens inspires one to say, "Come on, Christopher, don't be so coy. Tell us what you really think." Seriously, though, this book of compiled quotes has some real gems - and some real clunkers. Someone should tell the man who compiled them that not everything that comes out of a great man's mouth is necessarily worthwhile, and some of these left me scratching my head wondering why they were included. Reading through these quotes also reminds me of how often Hitchens was right - and how often he was wrong. Atheists must always guard against the temptation to join the religious in canonizing their great spokesmen, and books like this can help as a corrective. I would have liked to see a bit less on Bill Clinton (already fading from the popular memory long before this book was written), or, if the author felt the need to make Bill Clinton one of the longest sections in the book, to cover the actual problems of the Clinton presidency, rather than focus, like any other prurient preacher, on Clinton's sexual pecadilloes, which were, for the most part, none of our business (even if he was less than decourous). It was also interesting to trace the changing of Hitchen's thought on interventionism in the Middle East from the first Gulf war to the second, and recognize that, at some point, he totally lost any semblance of objectivity and allowed his visceral hatred for Hussein to take over his rational side, to the point that he equated everybody who protested against a brutal, unilateral war of aggression with being "supporters of Saddam" or people who "loved Saddam Hussein". Overall, a collection that is thought provoking, inspiring, irritating, and, all too frequently, redundant and boring, the fault not so much of the source of the quotes as of the compiler.
Review by stuart10er
16/06/2015
I love Hitchens' writing - not always his opinions - but his writing is usually superb. That being said, reading it usually requires some context to fully appreciate. This book is a collection of out-of-context quotes on Hitchens' writing on various subjects. Sometimes the citation of when and where published is enough to give it some kind of context, or it refreshes your memory of having read it when originally published. But for the most part, it is a disservice to his work and less enjoyable that had the editor just selected 40 or 50 of his best essays and published them in their total. This is what I thought the book was when I picked it up.