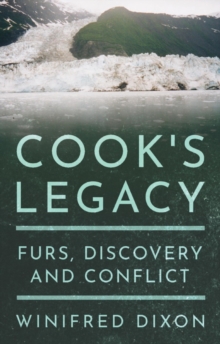 Cook's Legacy - Furs, Discovery and Conflict
Paperback / softback
Description
Captain James Cook was an outstanding example of navigation and seamanship, and together with the officers and men under his command, circumnavigated the globe three times.
One of these became Captain George Dixon. In this unique biography, the author - who hopes the Captain to be an ancestor of her late husband - traces Dixon's journey to discover the Northwest Passage as he followed Cook, continuing to when he was sent on a trading voyage to deal in furs on the Northwest Coast.
Well-researched, the story is told in multiple viewpoints with detailed historical observations woven throughout.
Marrying with this is the author's own experience of visiting the places that James Cook and George Dixon would have seen, as she and her daughter travelled to Canada and by ship to Vancouver Island, the Queen Charlotte Islands and the Northwest Coast and on to Juneaux Alaska.
As for George, the author hasn't proven a link yet, but there's always tomorrow!The book will be enjoyed by maritime history enthusiasts as well as readers who enjoy sailing adventures.
Information
Format: Paperback / softback
Pages: 288 pages
Publisher: Troubador Publishing
Publication Date: 19/12/2019
ISBN: 9781789017908