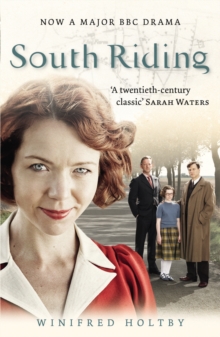 Description
The community of South Riding, like the rest of the country, lives in the long shadow of war.
Blighted by recession and devastated by the loss, they must also come to terms with significant social change.Forward-thinking and ambitious, Sarah Burton is the embodiment of such change.
After the death of her fiance, she returns home to Yorkshire focused on her career as headmistress of the local school.
But not everyone can embrace the new social order. Robert Carne, a force of conservatism, stands firmly against Sarah.
A tormented man, he carries a heavy burden that locks him in the past.
As the villagers of South Riding adjust to Sarah's arrival and face the changing world, emotions run high, prejudices are challenged and community spirit is tested.
Anna Maxwell Martin (Bleak House) and David Morrissey lead an outstanding cast in this rich and panoramic portrait of community in turmoil.
Winifred Holtby's little-known and hard-to-find literary gem is a magnificent masterpiece, to be joyfully rediscovered by a whole new generation of readers.
Information
Format: Paperback
Pages: 560 pages
Publisher: Ebury Publishing
Publication Date: 06/01/2011
ISBN: 9781849902038
Other Formats
Paperback from £8.85
EPUB from £3.99
Paperback / softback from £12.95
Free Home Delivery
on all orders
Pick up orders
from local bookshops
Reviews
Showing 1 - 2 of 2 reviews.
Review by brenzi
16/06/2015
Apparently, I've read too many of those post-modern books. You know the ones I'm talking about, the ones that are a puzzle to figure out, or that turn the story inside out, upside down and leave you asking yourself, "What the heck just happened?" Or perhaps the ones with so much symbolism that you don't know if you're coming or going and you spend less time actually reading the book than you do figuring out if the elephant is a metaphor for all the envious under achievers in the world. Well, at last, I've finally gotten to an old fashioned book that tells a story straight up. It's got a beginning, a middle and an end. Not only that, the characters are fully fleshed and the story itself held my interest for the entire 529 pages. I need to read more of these old fashioned stories (this one was originally published in 1935) because they're just so darn good.The community of South Riding is reeling in the years following WWI and the members of the county council are struggling to find a solution to the problems of the desperately poor, while still keeping the landed gentry of the area happy. At the same time, the school needs a new head mistress and the fiery Sarah Burton arrives on the scene, overwhelmingly superior to the other candidates, even though she is younger, combative, opinionated and politically sophisticated. They hire her anyway. It's socialism vs. capitalism and while presenting the points of each side the author also presents the ever present greed, poverty, and selfishness apparent in all communities. Holtby is unbelievably good at describing the workings of this community and has been compared to George Eliot, South Riding being similar to Middlemarch. The class wars that are carried out are similar too. Sarah Burton's nemesis, Robert Carne, turns out to not be her enemy after all. And Mrs. Beddows, the alderman that Holtby patterned after her own mother, loves both Burton and Carne, and fights to see that they are both satisfied. Mr. Huggins, who wants to make the lives of the poor bearable while at the same time making his own life better, reveals to us that we are all human. Sarah wants only the best for her girls and tells them so:"Don't let me catch any of you at any time loving anything without asking questions. Question everything. Especially, perhaps, what I say. Question everyone in authority; and see that you get sensible answers to your questions. Then, if the answers are sensible, obey the orders without protest. Question your government's policy, question the arms race, question the Kingsport slums, and the economies over feeding school children, and the rule that makes women have to renounce their jobs on marriage, and why the derelict areas still are derelict. This is a great country and we are proud of it, and it means much that is most lovable. But questioning does not mean the end of loving, and loving does not mean the abnegation of intelligence." (Page 524)Along the way, besides telling a humdinger of a tale, Holtby's prose is absolutely exquisite as she throws out "judges of society," "death from malnutrition," "bourgeois philanthropy." So very satisfying. Very highly recommended.
Review by cbl_tn
16/06/2015
South Riding is full of characters whose ideals are tested by reality. The worldwide depression of the 1930s did not spare this fictional Yorkshire district. Everyone is feeling its effects -- blue and white collared unemployed and their families, World War I veterans, and even the local gentry. The local council has the authority to provide relief for its citizens – but which ones? Inevitably, relief for one part of the citizenry will come at the expense of the others.South Riding reminds me of Joseph Conrad's Nostromo in its description of a single government district and the power struggles within it, as well as its use of the omniscient narrator, providing the reader with more insight than any of the characters possesses. It also reminds me of Thackeray's Vanity Fair in that none of its characters are entirely sympathetic.Holtby's style is a bit too didactic for my tastes. The novel is a vehicle for expressing her social and political philosophy. She uses soliloquy to convey her characters' social and moral philosophy. I generally prefer to discover a character's beliefs through his or her actions rather than his thoughts. However, there is an interesting tension between what some of the characters believe and how they behave. Not all of them have the courage of their convictions. With time, I think I'll remember this novel more for its vividly drawn characters than for any beauty of language.