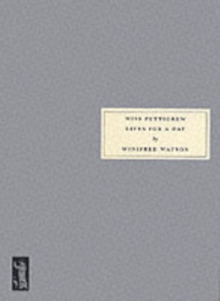 Miss Pettigrew Lives for a Day
Paperback
Information
Format: Paperback
Pages: 256 pages, 30ill.
Publisher: Persephone Books Ltd
Publication Date: 02/11/2000
ISBN: 9781903155103
Free Home Delivery
on all orders
Pick up orders
from local bookshops
Reviews
Showing 1 - 5 of 18 reviews.
Previous | Next
Review by herschelian
16/06/2015
Someone described this novel as a version of Cinderella for grown-ups. I'm not sure I see it quite like that, but it is a charming, funny, lighthearted romp of a book and I loved it. I first heard a snatch of it read aloud on BBC Radio 4 by Maureen Lipman, and just had to get hold of a copy to read the whole thing. Miss Pettigrew is a woman of faded gentility, who scrapes a living by working as a governess. Sent from one household to another by the agency which employs her, the tale unfolds over the period of a single day which changes her life completely. Written in the 1930s, with a wonderful feel of the period - helped by the black and white illustrations - it is terrific that Persephone Books have re-published this so a whole new generation of readers can enjoy it. It is ideal reading when one is feeling below par, as it cheers you up in the most wonderful way.
Review by SimonW11
16/06/2015
A prewar tale of a downtrodden governess who has been holding desperately to her virtues and her gentility while her lot worsens. She applies for a job and finds herself thrust into a world of nightclubs, cocaine and promiscuity. triumphing at every turn. Though it was funny,I found Miss Pettigrew's desperation far easier to beleve in than the optomistic humour. She is a vicars daughter and at one stage I found myself comparing her lot with that of the one Mayhew encountered in Hyde Park, forced by poverty and circumstances to prostitute herself in the darkest corners of the park where no one could see how unapealing she was. Households were contracting rapidly at this period and a Governess's post was more precarious than most. Her inablity to visualise any option other than the workhouse was infectious.But the most jarring thing for modern readers. Is I suspect the range and varieties of prejudices displayed.
Review by aemurray
16/06/2015
LOVED, LOVED, LOVED this book. Sweet gem of a book.
Review by sandpiper
16/06/2015
An utterly enchanting, heart-warming book. Miss Pettrigrew, an unemployed governess, arrives for an interview for a new post. She is swept into the magical world of Miss LaFosse and her confusing array of boyfriends and suitors. Sherry is consumed. Before luncheon! Miss Pettrigrew, initially taken aback by the hedonistic lifestyle of her would-be employer, starts to revel in it, and discovers she has an uncanny knack for sorting out the problems of her new friend. But as Miss Pettrigrew savours the fun, she fears it cannot last - what will happen at the end of her day?Wholeheartedly recommended reading if you are feeling at all down - this book cannot fail to lift your spirits and make you laugh.
Review by reeread
16/06/2015
Miss Pettigrew mistakenly goes to apply for a post as governess but is caught up in the complicated tangle of Delysia LaFosse's life. Miss Pettigrew experiences and embraces the situations she has never tasted before, as a poor but genteel spinster. She does indeed live for a day.....with the promise of a lot more living to come.A taste, a snapshot, a slice of someone's life which makes you wonder what comes next. Except it would be spoilt if it did go on.