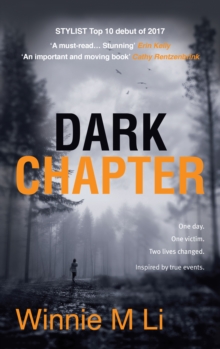 Description
An astonishing and unique novel inspired by the author's own storyVivian is a cosmopolitan Taiwanese-American tourist who often escapes her busy life in London through adventure and travel.
Johnny is a 15-year-old Irish teenager, living a neglected life on the margins of society. On a bright spring afternoon in West Belfast, their paths collide during a horrifying act of violence. In the aftermath, each is forced to confront the chain of events that led to the attack. Inspired by true events, this is a story of the dark chapters and chance encounters that can irrevocably determine the shape of our lives. Book Prizes:Winner of The Guardian Not The Booker PrizeShortlisted for The Authors' Club Best First Novel AwardNominated to The Edgars AwardsHighly Commended for CWA Debut DaggerWhat Reviewers and Readers Say:'Complex and rewarding... an important book,' Stylist'Heart-wrenching depiction...
Brave, raw and strikingly original, it is a story that will resonate for many years,' Daily Mail'An important and moving book about rape and the long process of recovery,' Cathy Rentzenbrink'Dark Chapter is a fascinating book, which takes an unflinching look at reality of sexual violence.
I have never found myself rooting for a heroine with more urgency than in Dark Chapter,' Kate Rhodes'Deftly written, pacey and unflinching, I could not put it down.
Winnie M Li is a rare talent with an explosive and timely story.
Do not miss it,' Marti Leimbach`Dark Chapter is a must-read.
It's gripping, compelling and all the more authentic for inhabiting both voices so completely.
Stunning,' Erin Kelly'Winnie M Li handles alternate points-of-view seamlessly in Dark Chapter, an unflinching lens on the sexual assault landscape and one that should be applauded,' Ali Land`An authentic, courageous debut, told with unflinching honesty and exceptional insight,' A.D.
Garrett`A powerful story, compassionately told,' Ros Barber`An accomplished debut, an honest and unsparing story,' Cath Stanicliffe'Lyrical, haunting and hypnotic.
Winnie Li yanks us into the abyss, luring us to confront the complexities of our humanity before expertly pulling us out.
An important novel from a ballsy new literary heroine.
A must read,' Irenosen Okojie
Information
Format: Hardback
Pages: 384 pages
Publisher: Legend Press Ltd
Publication Date: 02/05/2017
ISBN: 9781785079047
Free Home Delivery
on all orders
Pick up orders
from local bookshops