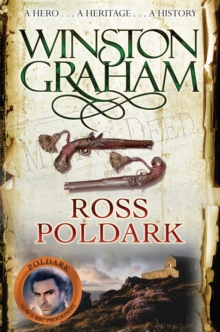 Ross Poldark
Paperback
Part of the Poldark series
Description
Ross Poldark is the first novel in Winston Graham's hugely popular Poldark series, which has become a television phenomenon starring Aidan Turner.
Cornwall in the 1780s - when powerful forces of revolution and reaction are at large in the world.Tired from a grim war in America, Ross Poldark returns to his land and his family.
But the joyful homecoming he has anticipated turns sour, for his father is dead, his estate is derelict and the girl he loves is engaged to his cousin.But his sympathy for the destitute miners and farmers of the district leads him to rescue a half-starved urchin girl from a fairground brawl and take her home - an act which alters the whole course of his life . . .Ross Poldark is followed by Demelza, the second novel in this evocative series set in 18th century Cornwall. 'From the incomparable Winston Graham . . . who has everything that anyone else has, then a whole lot more' Guardian
Information
Format: Paperback
Pages: 464 pages
Publisher: Pan Macmillan
Publication Date: 26/05/2008
Category: Sagas
ISBN: 9780330463294
Other Formats
Paperback from £7.09
EPUB from £3.59
Hardback from £8.35
Free Home Delivery
on all orders
Pick up orders
from local bookshops
Reviews
Showing 1 - 2 of 2 reviews.
Review by AdonisGuilfoyle
16/06/2015
I started reading Winston Graham's epic Poldark series a year ago, but my introduction was via the second book, and I had to wait until memory faded to start again properly; I wasn't disappointed. Graham, along with Daphne du Maurier and Rosamunde Pilcher, expertly captures the romantic beauty and close community of Cornwall, although his books cover the county's history and the roots of its modern reputation. The characters, all sharply hewn and honestly portrayed, are what first drew me into his novels, and they continue to entrance even after the twists and turns of the plot are now expected. Ross is the 'hero', though his outspoken pride and emotional failings save him from becoming romanticised - his unconventionality and broad mind are attractive in this first novel, but I recall that he quickly sheds his polished armour. However, my favourite character, christened with one of the best names in fiction, is Demelza, Poldark's (very nearly) child bride; she literally grows and matures as the pages turn, but never loses her own identity or that wonderful accent! She is one of the few 'spirited' heroines I can stomach, such is Graham's talent at portraying her. The rest of the Poldark clan, not to mention the families from the surrounding mining villages, are also a riot of local colour.Winston Graham's novels are accessible and instructive - he writes from history, not of it - but also thoughtful, and illustrated with beautifully poetic language and sentiment (his description of Ross' new understanding of his young wife is tender, but also concise in expressing the contradiction of feelings and desires). Returning to the beginning is not a chore with these books, and I can hardly wait to savour again the comedy, tragedy and beauty of following sequels.
Review by Smiler69
27/08/2015
I stayed up very late for a few nights reading the first book in this series, and just finished it last night. Somehow I vastly increased my reading speed with this novel from nearly 2 mins/page nearly by half—to just 1 minute and a few seconds! (my normal rate in much younger days). Not sure how that happened, but I'm hoping it carries over with other books, though I suspect it has a lot to do with reading interest and a narrative you don't want to pull away from even for a mere moment! Can't wait to continue on with Demelza. Of course this doesn't constitute much of a review, or if it even <i>is</i> one, which I doubt, but, in my defence, other than rehashing the book synopsis and expressing how excited I was about this novel I don't feel I have much to add; and as the former can be found everywhere and others have already done a great job of interpreting their take on the story, I think my job is done. I hope I did manage to get across how much I enjoyed it and will add that I'm seriously considering reading the whole series in short order, as I have it from knowledgeable sources that all the following 11 books are of equal quality of writing and period detail.