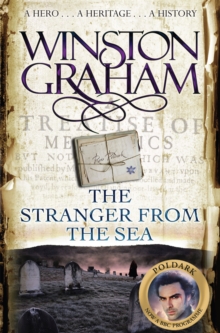 The Stranger from the Sea : A Novel of Cornwall 1810-1811
Paperback
Description
Cornwall 1810. The Poldark family awaits the return of Ross from his mission to Wellington's army in Portugal.
But their ordered existence ends with Jeremy Poldark's dramatic rescue of The Stranger from the Sea.
Stephen Carrington's arrival in the Poldark household changes all their lives.
For Clowance and Jeremy in particular, the children of Ross and Demelza, Stephen's advent is the key to a new world - one of both love and danger. 'From the incomparable Winston Graham...who has everything that anyone else has, then a whole lot more' - "Guardian".
Information
Format: Paperback
Pages: 512 pages
Publisher: Pan Macmillan
Publication Date: 26/05/2008
Category: Sagas
ISBN: 9780330463386
Free Home Delivery
on all orders
Pick up orders
from local bookshops
Reviews
Showing 1 - 1 of 1 reviews.
Review by AdonisGuilfoyle
27/08/2015
I think <i>Poldark</i> fever may have run its course. The second four books in the series, written after a gap of twenty years, were weaker than the first four, and <i>The Stranger From The Sea</i>, with a break of four years for the author and ten for the characters, is even worse! Ross was already suffering from a severe case of Hero Syndrome, dashing off to France to rescue Dwight and grudgingly becoming an MP, but suddenly he's a secret agent for the government? Demelza, after twenty years of marriage to Ross, is still fretting about her origins - and still attracting every man with a pulse? Their children are equally 'special', with beautiful, spirited Clowance and sensitive, intelligent Jeremy - oh, and Isabella-Rose, the 'ten years later' bolt-on. I just didn't buy into the clichéd continuation of Nampara family life, and struggled to care about characters who were originally so real and so dear to me as a reader.Winston Graham, in his early seventies, had obviously run out of steam - little in-joke for anyone else who reads the book - by this point, but couldn't bear to abandon the money-spinning Poldark series. So he dusted off his wish-fulfilment hero and beloved heroine, fast-forwarded ten years, gave young children to the remaining central characters in return for the shade and depth of the original books, and turned a successful series into bad fan fiction. You know those 'What happens next?' stories penned by fifteen year old girls who 'ship' the H. and h. of romantic literary fiction, full of implausible historical cameos and fledgling matches for the next generation? That's <i>Stranger</i> in a nutshell. Ross spends the first half of the book 'en mission' in Portugal for his mate Canning, the Foreign Secretary, running into Geoffrey Charles and joining in the fray, and then returning to London for an audience with Prinny. Demelza, meanwhile, has three children to care for, two of whom are near full-grown, yet is still stuck in timewarp circa the early novels. The Enys' have two daughters mentioned only by name, Drake and Morwenna are married and looking after Ross' boatyard, Sam has taken up with Rosina Hoblyn, and George has turned into a teenage boy full of lustful urges, thinking to buy himself a wife and profit from the misfortunes of others. Graham spends so long narrating the literary version of 'Previously, on ER...' and condensing the social, industrial and martial history of Britain in the early 1800s that he never really gets round to a plot. Or if he did, then he looked to Georgette Heyer for inspiration. Budding engineer Jeremy falls for a hybrid of Elizabeth and Caroline, with a name I was never quite sure how to pronounce, even in my head, and is turned down for not being good/rich enough. Clowance is courted by the eponymous stranger from the sea, an Irish caricature who washes up on a raft, while being courted by a titled younger son. I'm not sure if Graham wanted his readers to like Stephen Carrington, but much in the same fashion as Hugh Armitage, I couldn't stomach him. Luckily I won't be reading any further, then! A nonsense plot, full of bland romantic intrigues and potted history lessons, is not why I fell in love with this series. I think the real heart of the novels must have died with Elizabeth (woops, spoiler!) I might just watch the 1996 adaptation of this novel, though, to be perverse - I'm sure the cast couldn't do any real harm to the already limp story or barely recognisable characters!