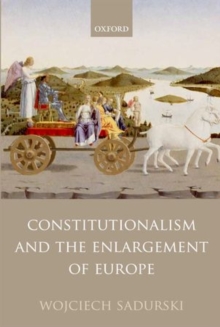 Constitutionalism and the Enlargement of Europe
Hardback
Description
After the fall of Communism in Central and Eastern Europe (CEE), the newly democratized countries of this region joined two main pan-European political and legal structures: the Council of Europe and the European Union.
This book shows how the Eastward enlargement of these two structures fostered the 'constitutionalization' both of the Council of Europe and of the EU.
Prompted by the enlargement of the Council of Europe and the admission of a number of countries which brought unique and often more substantial problems onto the Court's agenda, the main judicial body of the Council of Europe, the European Court of Human Rights, became a quasi 'constitutional court' of Europe. This book demonstrates that this was primarily as a result of the widening of its agenda and the resulting need to make activist decisions about the compatibility of national laws withthe European Convention.
In terms of the EU, the book shows that the enlargement (first prospective, and then, actual) has been an important agenda-setter for the constitutionalization of the EU; in particular, for openly placing the issue of fundamental rights on the EU agenda as a legitimate and indispensable matter of concern for the EU.
But the 'constitutional synergies' were a two-way street: the accession to both pan-European structures has also affected the development of democratic constitutionalism in CEEstates.
It has raised difficult issues regarding the relationships between national sovereignty, democracy, and human rights that CEE policy makers have grappled with; these issues and responses by CEE member states have had implications for the 'old' EU member states as well. These dynamics areexplored through various case studies, providing a new perspective on the development of legal norms and institutions within European supranational bodies.
Free Home Delivery
on all orders
Pick up orders
from local bookshops