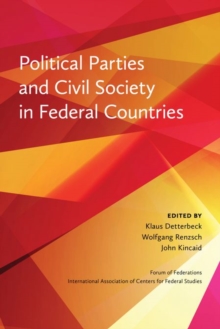 Political Parties and Civil Society in Federal Countries
Paperback / softback
Description
Political parties and civil society organizations are among the most important political actors in federal democracies.
These bodies represent both the interests and political identities of people on an individual level; society-wide, they make demands on public institutions and provide support for political preferences.
They are also key political actors themselves, functioning as intermediaries between citizens and governments.
This fascinating comparative study of the interactions between political parties and civil society in federal systems sheds new light on how these interactions function, influence politics, and ultimately shape a society.
Political parties are known to be vital forces in federal systems.
Less well-understood is the role of civil-society institutions; the reason for this in part is that in many less developed federations, political parties may be robust but civil society is weak.
Yet there has until now been little comparison of these institutions across federations.
By selecting key issues, experts in eleven federal systems consider how these interactions work and how they may be game-changing. Each chapter provides an overview of its country's arrangements, institutions, and practices regarding political parties and civil society organizations.
Chapters reveal how parties and civil society are embedded in an institutional setting as well as the organizational structures and the territorial dynamics of interest mediation.
They also analyze the impact of parties and civil society on federal developments. This clearly written, well-edited collection will be accessible to interested citizens, political leaders, government practitioners, and students and faculty in institutions of higher education.
It also provides insight into emerging trends for all these readers.
The study concludes, for example, that federalism has proved to be a powerful weapon for opposition parties to challenge one-party hegemony, and that traditional party allegiances is declining across states.
Another fascinating insight is new sectors that have been growing in many countries, sectors that focus such issues as citizens' rights, environmental protection, and gender equality. A vast majority of nation-states are multinational, multilingual, multireligious, and/or multicultural, and many of these are federations.
Understanding the interactions between political bodies within these states helps us understand the twin trends of globalization and regionalization evident throughout today's world.
This book was undertaken as a joint project of the Forum of Federations, an international network on federalism that seeks to strengthen democratic governance by promoting dialogue on the functioning of federalism, and the International Association of Centres for Federal Studies, an association of centres and institutes throughout the world that maintain a research and teaching focus on political systems that have federal features.
Information
Format: Paperback / softback
Pages: 344 pages
Publisher: Oxford University Press, Canada
Publication Date: 26/11/2015
Category: Comparative politics
ISBN: 9780199022274
Free Home Delivery
on all orders
Pick up orders
from local bookshops