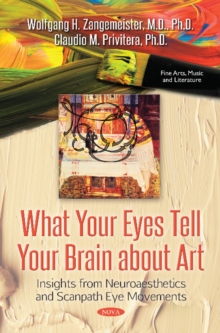 What Your Eyes Tell Your Brain About Art : Insights from Neuroaesthetics & Scanpath Eye Movements
Paperback / softback
Description
In the last decade, we have observed a continuous increase of interest in eye movement research.
According to a recent investigation, eye movements are discussed in over one million publications.
The number of publications with eye movement in the title or abstract has been steadily increasing over the years, with over 1,200 papers published alone in 2013.
The last decade has also witnessed the emergence of many new sub-disciplines in the field of neuroscience and cognition one of them is neuroaesthetics, which refers to the [neuro-]science of aesthetic perception of art.
The title and contents of our book have been inspired by a very influential research article.
It is one of the most cited scientific papers of all time, published in 1959 by a team of neurophysiologists and engineers, Lettvin, McCulloch and Pitts who are considered to be the founders of modern cybernetics.
Their article, What the Frogs Eye Tells the Frogs Brain, refers to the role of internal cortical models in the communication or interfacing of the information in the outside world with the practical contextual task of the viewer.
It shows how eye movements are the modality of this communication.
The same duality between eye movements and internal models plays a fundamental role in humans.
When we look, for example, at art, it explains those neurological processes involved in neuroaesthetics.
Our book undertakes this innovative approach to neuroaesthetics.
It explains this duality and discusses the communication between the artist and the viewers aesthetic perception.
It is structured into five chapters. Chapter One discusses the neurology of aesthetics, the idea of art as a form of communication, and explains perception as an active matching between a top (the viewers mind) and a down (the viewers sensorial machinery).
It goes deep into the philosophical quandary of what beauty is in terms of art.
Chapter Two is about eye movements and the scanpath theory of vision perception.
It discusses the role of visual attention for controlling active vision, the meaning of mental binding and the analysis of eye movements as the key to understanding aesthetic processes.
Chapter Three introduces Claude Shannons information theory using it as a matrix into which to embed the top down active vision scanpath theory.
The authors explain the main concept of neuroaesthetics as a form of communication mediated by the sequence of eye fixations.
Chapter Four discusses art critique: The role of the viewers training and expectation, the dilemma of the aesthetics of art versus non-art and how all of this affects the viewing mode.
Finally, Chapter Five treats the intimacy of the artistic process, showing the unique implementation of the communicative experience between the artist and the viewer the relation between a pictorial representation defined by the artist and modes of AWE generated in the viewer during active looking.
Information
Format: Paperback / softback
Pages: 152 pages
Publisher: Nova Science Publishers Inc
Publication Date: 01/09/2017
ISBN: 9781536124354
Free Home Delivery
on all orders
Pick up orders
from local bookshops