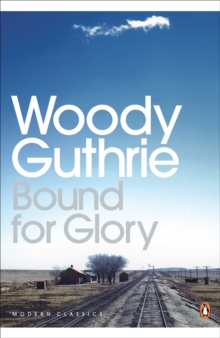 Bound for Glory
Paperback
Description
Chronicling some from the point of view of one of the twentieth century's most influential musicians, Woody Guthrie's Bound for Glory includes an introduction by Joe Klein, author of Primary Colors, in Penguin Modern Classics. 'Now I been here an' I been there, Rambled aroun' most everywhere' Bound for Glory is the funny, cynical and earthy autobiography of Woody Guthrie, the father of modern American folk music.
He tells of his childhood running wild in an Oklahoma oil-boom town, the tragedies that struck his family and of life on the open road during the Great Depression - hell-raising and brawling in boxcars, all while singing to raise a dime for his next meal.
But above all, this is a song for the America that Woody saw from his lonesome highway, as he travelled from one end of the country to the other with guitar in hand and the songs that made him a legend drifting out over the Dust Bowl.
Adapted into an Oscar-winning film starring David Carradine, Bound for Glory is the moving true story of America's greatest folksinger. Woody Guthrie (1912-67), the son of a cowboy, was born in rural Oklahoma.
When the Depression arrived, Woody hit the road and travelled round America. He became a folksinger, guitarist, actor, artist and broadcaster, and is best remembered for songs including 'This Land is Your Land', 'Roll On, Columbia, Roll On' and 'Worried Man Blues'. If you enjoyed Bound for Glory, you might like Jack Kerouac's On the Road, also available in Penguin Modern Classics. 'Wild as a train whistle in the mountains, a scrumptious picture of fighting, carousing, singing, laughing migratory across America' The New York Times 'One of the patron saints of American rebelliousness' Joe Klein 'Even readers who never heard Woody or his songs will understand the current esteem in which he's held after reading just a few pages ...always shockingly immediate and real, as if Woody was telling it out loud ...A book to make novelists and sociologists jealous' The Nation
Information
Format: Paperback
Pages: 320 pages, Illustrations
Publisher: Penguin Books Ltd
Publication Date: 24/06/2004
Category: Folk & traditional music
ISBN: 9780141187228
Free Home Delivery
on all orders
Pick up orders
from local bookshops
Reviews
Showing 1 - 3 of 3 reviews.
Review by seoman
16/06/2015
What a book! A folk legend tells all. Amazing.
Review by charbutton
16/06/2015
In Bound for Glory Woody Guthrie, 'the father of American folk music', writes about the first thirty-odd years of his life. Born in 1912 he grew up in an Oklahoman oil town, a place of opportunity but also grinding poverty. He had a happy childhood despite the death of his sister and his mother's increasing mental ill-health. In his late teens he started to ride the box cars across American with hundreds of other men (he never mentions women using the trains) searching for work in one new place after another. This nomadic lifestyle, although sharpened by the Great Depression, suits Guthrie. When he has the chance to stay in a relative's grand house or try out for a show biz job, he jumps on the first train out of town to escape the shackles those opportunities would entail.Despite Guthrie writing about his own life, this book is, at heart, a biography of the American working class and under-classes at a time of economic and social desperation. Its obvious that he had a great love for the people he met and travelled with. His sense of equality and justice, to be found in so much of his music, comes through clearly.He also has a great way with words. There is a great passage in which he describes how, as a child, he watched bacteria through a microscope. He compares them to two men squaring up for a fight, in wonderful detail.
Review by Michaelhlamb
16/06/2015
This is one of those books you almost don't want to review for fear of not being able to do it justice. I really have to say that this is now in my top 5 favourite books ever. It is strangely powerful and beautiful in a way only Guthrie could be expected to accomplish. The story is all at once heart-breaking, earthy and elegant. I genuinely cannot recommend it enough. I know it will not be long before I'm pouring over this one again!
Also in the Penguin Modern Classics series | View all