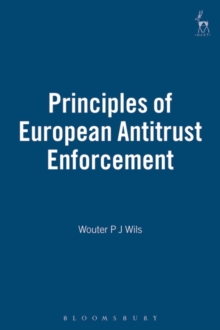 Principles of European Antitrust Enforcement
Hardback
Description
After 1 May 2004, the enforcement of European antitrust law entered a new era.
At the same time as 10 new Member States joined the European Union, Regulation No 17, which had governed the enforcement of Articles 81 and 82 EC since 1962, was replaced by Regulation No 1/2003, which has ushered in far-reaching changes.
This book brings together six essays which analyse the background and main characteristics of the new enforcement system, as well as a number of outstanding questions and potential areas of further reform, including the question whether private antitrust enforcement should be encouraged, and the question whether the decisional power in antitrust matters should be transferred to the courts.
Special attention is given to the problem of the compatibility of the new enforcement system and of the practice of European antitrust enforcement with the requirements of the European Convention of Human Rights and the Charter of Fundamental Rights of the European Union, including the principle of ne bis in idem, the privilege against self-incrimination, and the right to an independent and impartial tribunal. On many of these issues, the discussion contained in this book is not only legal, but also includes an economic analysis from the perspective of efficient law enforcement.
Information
Format: Hardback
Pages: 208 pages, black & white illustrations
Publisher: Bloomsbury Publishing PLC
Publication Date: 22/02/2005
Category: Competition law / Antitrust law
ISBN: 9781841135267
Free Home Delivery
on all orders
Pick up orders
from local bookshops