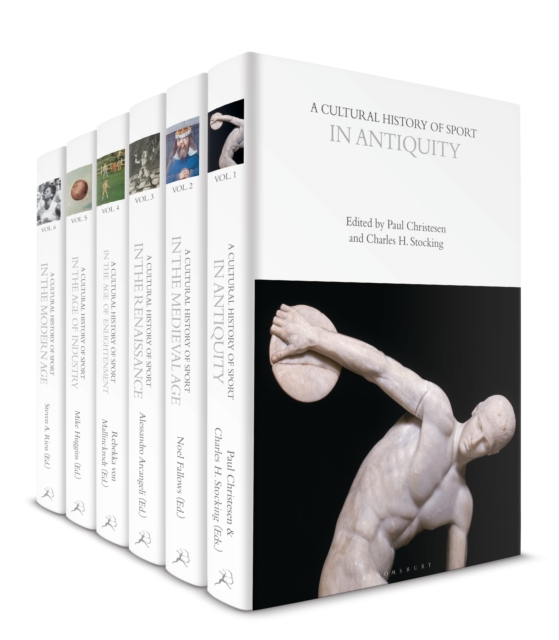 A Cultural History of Sport
Mixed media product
Description
Shortlisted by the North American Society for Sport History for its 2022 Anthologies Award From gladiatorial combat to knightly tournaments and from hunting to games and gambling, sport has been central to human culture.
A Cultural History of Sport presents the first extensive history from classical antiquity to today, covering all forms and aspects of sport.
Chapter titles are identical across each of the volumes.
This gives the choice of reading about a specific period in one of the volumes, or following a theme across history by reading the relevant chapter in each of the six.
The themes (and chapter titles) are: The Purpose of Sport; Sporting Time and Sporting Space; Products, Training and Technology; Rules and Order; Conflict and Accommodation; Inclusion, Exclusion and Segregation; Minds, Bodies and Identities; Representation.
The six volumes cover: 1 - Antiquity (800 BCE to 600 CE); 2 - Medieval Age (600 to 1450); 3 - Renaissance (1450 to 1650); 4 - Age of Enlightenment (1650 to 1800); 5 - Age of Industry (1800 to 1920); 6 - Modern Age (1920 to present). The page extent for the pack is approximately 1776pp.
Each volume opens with Notes on Contributors and an Introduction and concludes with Notes, Bibliography, and an Index. The Cultural Histories Series A Cultural History of Sport is part of The Cultural Histories Series.
Titles are available as hardcover sets for libraries needing just one subject or preferring a tangible reference for their shelves or as part of a fully-searchable digital library.
The digital product is available to institutions by annual subscription or on perpetual access via www.bloomsburyculturalhistory.com .
Individual volumes for academics and researchers interested in specific historical periods are also available in print or digitally via www.bloomsburycollections.com .
Information
Format:Mixed media product
Pages:269 bw illus
Publisher:Bloomsbury Publishing PLC
Publication Date:28/01/2021
Category:
ISBN:9781350024106
Information
Format:Mixed media product
Pages:269 bw illus
Publisher:Bloomsbury Publishing PLC
Publication Date:28/01/2021
Category:
ISBN:9781350024106
Also in the The Cultural Histories Series series | View all