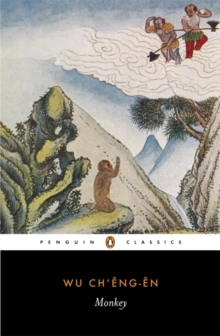 Description
Also known as Journey to the West, Wu Ch'eng-en's Monkey is one of the Four Great Classical Novels in Chinese literature, translated by Arthur Waley in Penguin Classics.
Monkey depicts the adventures of Prince Tripitaka, a young Buddhist priest on a dangerous pilgrimage to India to retrieve sacred scriptures accompanied by his three unruly disciples: the greedy pig creature Pipsy, the river monster Sandy - and Monkey.
Hatched from a stone egg and given the secrets of heaven and earth, the irrepressible trickster Monkey can ride on the clouds, become invisible and transform into other shapes - skills that prove very useful when the four travellers come up against the dragons, bandits, demons and evil wizards that threaten to prevent them in their quest.
Wu Ch'eng-en wrote Monkey in the mid-sixteenth century, adding his own distinctive style to an ancient Chinese legend, and in so doing created a dazzling combination of nonsense with profundity, slapstick comedy with spiritual wisdom.
Arthur Waley's humorous and energetic translation is accompanied by an introduction discussing the story's background in history and legend, its elements of anti-bureaucratic satire and the allegorical nature of its characters Very little is known about Wu Ch'eng-en (c.1505-80) although he is believed to have held the post of District Magistrate for a time.
He had a reputation as a good poet but only a few rather commonplace verses of his survive in an anthology of Ming poetry and in a local gazetteer.If you enjoyed Monkey, you might like Confucius's The Analects, also available in Penguin Modern Classics.
Information
Format: Paperback
Pages: 352 pages
Publisher: Penguin Books Ltd
Publication Date: 01/03/1973
Category: Classic fiction (pre c 1945)
ISBN: 9780140441116
Other Formats
Paperback from £5.99
EPUB from £3.99
Free Home Delivery
on all orders
Pick up orders
from local bookshops
Reviews
Showing 1 - 2 of 2 reviews.
Review by Rynooo
16/06/2015
Packed with humour and delivered with naive charm, this is a masterful translation of a timeless folklore classic. The roguish but wise Monkey is a constant source of amusement and his audacity is at times genuinely laugh-out-loud hilarious.Clocking in a little over 350 pages, the broad tale spans hundreds of years and moves along at a generous pace, never once rushed. Chock-full of monsters, epic battles, magic and shenanigans, each encounter along our heroes' journey is as delightful as the last.A joy to read for both adults and children & highly recommended.
Review by AHS-Wolfy
27/08/2015
The story of how Monkey became a king, learned great power, <i>earned</i> the title of Great Sage - Equal of Heaven, caused such mischief and mayhem that he was entombed beneath a mountain for 500 years before being released to accompany and protect Tripitaka on a pilgrimage to India to bring back scriptures to lead the Chinese people on the path to true enlightenment. Can Monkey, with the help of another two rascals that are recruited along the way and a dragon who is turned into a horse, shield the young priest from the many dangers and trials that he will face on their journey to the west?The original tale is a sprawling epic of <i>immense length</i> and the translator's, Arthur Waley, introduction tells how this abridged version "omits many episodes, but translating those that are retained almost in full, leaving out, however, most of the incidental passages in verse, which go very badly into English" and it works very well. The inclusion of more of these incidents probably would have made the tale too repetitive as many of them are quite formulaic and follow the same pattern. It is also quite episodic in nature and so could be read in small doses quite easily though some chapters end with a cliffhanger which will be resolved in the next. This is an amusing, somewhat satirical adventure story that pokes fun at the bureaucratic establishment. While some understanding of Chinese culture and allegory would add to the understanding of what is contained in this book it's not at all requisite to enjoying what is on offer.