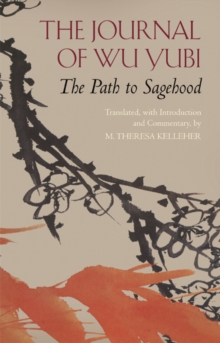 The Journal of Wu Yubi : The Path to Sagehood
Hardback
Description
In this rare firsthand account of an individual's pursuit of sagehood, the early Ming dynasty scholar and teacher Wu Yubi chronicles his progress and his setbacks, as he strives to integrate the Neo-Confucian practices of self-examination and self-cultivation into everyday life.
In more than three hundred entries, spanning much of his adult life, Wu paints a vivid picture, not only of the life of the mind, but also of the life of a teacher of modest means, struggling to make ends meet in a rural community.
This volume features M. Theresa Kelleher's superb translation of Wu's journal, along with translations of more than a dozen letters from his personal correspondence.
A general Introduction discusses Neo-Confucianism and the Ming dynasty, and includes biographical information that puts the main work in context.
A substantial commentary on the journal discusses the obstacles and supports Wu encounters in pursuit of his goal, the conflict between discipline and restraint of the self and the nurturing and expanding of the self, Wu's successes and failures, and Wu's role as a teacher.
Also included are a map of the Ming dynasty, a pronunciation guide, a chronology of Chinese dynasties, a glossary of names, a glossary of book titles, and suggestions for further reading.
Information
Format: Hardback
Pages: 230 pages
Publisher: Hackett Publishing Co, Inc
Publication Date: 15/09/2013
Category: Confucianism
ISBN: 9781624660436
Other Formats
Paperback / softback from £10.65