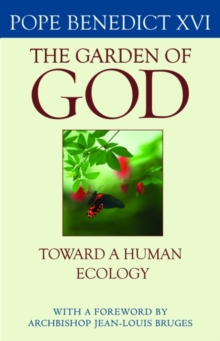 The Garden of God : Toward a Human Ecology
Paperback / softback
Description
Genesis, the first book of the Bible, tells of the creation of the world and our dominion over it.
But is this the whole story? The planet on which we live is ecologically fragile, and all people of good will have a responsibility to take care of this most precious gift.
During his papacy, Pope Benedict XVI repeatedly drew attention to the environment, whether in terms of preserving it such as his address concerning Amazonia and his letter regarding the Arctic or distributing its vital resources such as water more equitably.
What is more, during Benedict's papacy, the Vatican became the first, and remains the only, carbon-neutral country in the world. This book gathers together the audiences, addresses, letters, and homilies of Benedict on a wide-ranging set of topics that deal with the world about us.
The major themes and connections he explores are creation and the natural world; the environment, science, and technology; and hunger, poverty, and the earth's resources. In these pages, Benedict insists that if we truly desire peace, we must be increasingly conscious of and nurture all of creation.
Furthermore, he argues convincingly that as our love of God should cause us to protect the environment, so should our heightened sense of appreciation of the natural world draw us closer to God.
Benedict speaks out against the spread of nuclear weapons, threats to biodiversity, and in favor of alternative energy.
He urges sustainable development, equitable distribution of food and water, and an end to hunger. This book is a valuable resource for all those who seek to understand more fully the relationships among the environment, Catholic social teaching, and theology.
Whether speaking to a vast crowd, meeting with a small group of scientists, or writing letters to world leaders, Benedict has shown a clear path towards a theologically cogent concern for the planet on which we live.
Information
Format: Paperback / softback
Pages: 232 pages
Publisher: The Catholic University of America Press
Publication Date: 30/04/2014
Category: Religious issues & debates
ISBN: 9780813225791
Free Home Delivery
on all orders
Pick up orders
from local bookshops
Also by XVI Pope Benedict