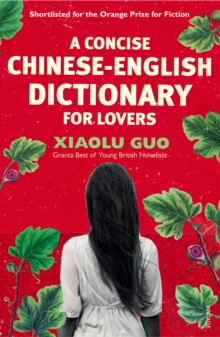 A Concise Chinese-English Dictionary for Lovers
Paperback
Description
Shortlisted for the Orange Prize for Fiction Twenty-three-year-old Zhuang (or Z as she calls herself - Westerners cannot pronounce her name) arrives in London to spend a year learning English.
Struggling to find her way in the city, and through the puzzles of tense, verb and adverb; she falls for an older Englishman and begins to realise that the landscape of love is an even trickier terrain... Xiaolu Guo was named as one of Granta's Best of Young British Novelists
Information
Format: Paperback
Pages: 368 pages
Publisher: Vintage Publishing
Publication Date: 01/01/2008
ISBN: 9780099501473
Free Home Delivery
on all orders
Pick up orders
from local bookshops
Reviews
Showing 1 - 5 of 5 reviews.
Review by Kanikoski
16/06/2015
A commendably simple narrative with little in the way of forced plot twists. The joy comes from the manipulation, interpretation, and changes in language, and consequently in personal and cultural expectations and attitudes.
Although the writing style was intriguing I didn't feel any connection to the main charachters and didn't understand some of their behaviour. Interesting insights into hoe English culture may be viewed by an outsider. A quick read.
Review by Raven
16/06/2015
Zhang, a young woman from mainland China, is living in London for a year to improve her English. Whilst there, she meets a stranger, and they become lovers. It's a simple idea, and is mirrored and reinforced in the way the content follows the form of the novel: Zhang's English, as seen in the first-person narrative, goes from stilted and monosyllabic to nearly perfect, descriptive and distinctive, through the course of the year. But that is undoubtedly the best feature of the novel. It's clear from the outset what its aims are: to explore the concept of distance, both physical and cultural, and the loneliness that accompanies it. And this, it accomplishes; Zhang's loneliness is palpable, and the evocation of grey London weather, her quiet misery, the all-pervasive chill, these are done masterfully. It makes you want to pause and hug your human.But in the end, that's all there is to it: a slight slice of theme, without a centre to hold it together. The two characters, Zhang and her unnamed lover, are well-drawn but very rarely likeable. Her lover in particular is cold, distant, thoughtlessly racist: well-characterised, but it's difficult to see why Zhang loves him. And in her turn, she is the ever-present narrator, but her motives are difficult to understand and her choices hard to empathise with. Occasionally, the turns of what there is of the plot are too pat, too convenient (it is never clear, for example, why her drifter boyfriend consents to her living with him in the first place). The novel has insight. It says things about British society that ring true, it conveys wonderfully how hard communication is across language and cultural barriers. But it doesn't leave you happy, or with a particular sense of profundity - just echoes of its chill.
Review by tronella
16/06/2015
A young woman from China comes to England for a year to learn the language, and falls in love. The whole book is in the first person and so in slightly broken English, more so at the beginning, but it's always understandable and I think it works well. The sense of homesickness came across really well, and the parts where you could clearly see that the things that were happening weren't as she interpreted them were well done, in my opinion.
Review by EricPMagnuson
16/06/2015
Good book, very tender and up-beat.