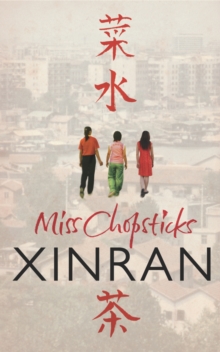 Miss Chopsticks
Paperback
Description
Sisters Three, Five and Six don't have much education, but they know two things for certain: their mother is a failure because she hasn't produced a son, and they only merit a number as a name.
Women, their father tells them, are like chopsticks: utilitarian and easily broken.
But when they leave their home in the countryside to seek their fortune in the big city, their eyes are suddenly and shockingly opened.
Together they find jobs, make new friends, and learn more than a few lessons about life...
Information
Format: Paperback
Pages: 272 pages
Publisher: Vintage Publishing
Publication Date: 03/07/2008
ISBN: 9780099501534
Other Formats
EPUB from £4.99
eAudiobook MP3 from £32.08
Free Home Delivery
on all orders
Pick up orders
from local bookshops
Reviews
Showing 1 - 5 of 5 reviews.
Review by TPauSilver
16/06/2015
Miss Chopsticks is a narative based on the stories of three women Xinran met in China. These are women who had come to the city from the country and are trying to carve out lives for themselves in what is, essentially, a new culture. Sisters Three, Five and Six have always been a shame to their father, being chopsticks and not sons, beams, who can hold up a roof. To escape marriage, Three runs to the city and carves out a life for herself, eventually followed by Five and Six. Xinran mixes anecdotes of the sister's life with insight into how culture segregated between the cities and the country in modern china and interesting social commentary. The books is full of insigntful comments and also witty and inspiring anecdotes. A fun, easy read that will leave you feeling happy but also give you something to think about.
Review by Staramber
16/06/2015
Chopsticks, we are told, are women, roof beams are men. Chopsticks can't support a household. Having six daughters in a rural village in Anhui Province means that life for Three, Five and Six has been incredibly difficult. They come from a family always told it was wrong, they themselves have never been allowed to have a say. The country, Six muses, is centuries behind the city in this respect. So it is a huge adjustment when these girls move to the city. They are allowed to have a say, choose their own lives, and learn that they aren't useless. Yet Xinran doesn't, for a second, make this a town vs. country novel. Nor does she praise the girls new life an the opportunities it brings. It's still difficult, you can still fail.This is a wonderful novel about modern china and what life is like for women. An excellent read.
Review by AlexDraven
16/06/2015
I was expecting a novel about the - sometimes incredibly harsh - conditions migrant workers face in contemporary China to be hard going, but instead, the clear, inviting style and the relationships between the three very different but equally appealing sisters drew me in.
Review by Glorybe1
16/06/2015
What a lovely little book this is, called Chopsticks as this is what the chinese people think of little girls, just workaday tools to be discarded when done with and of no real importance. Boys on the other hand are the "Roof beams" that hold up and support the family within. An archaic thought, but as this book was written about 2006, obviously still quite a significant idea in the China of today!! Women that do not produce Boys are said not to be "Laying Eggs"! And the fathers lose face, which is a desperate thing to happen to a Chinese man.It is hard for us Westerners to take on board this type of thinking which is really an anathema to us.Whilst things are changing for the Chinese, the things they are taught (or not as the case may be) are quite hard for us to grasp in our modern world.The difference between the Country Peasent and the City person is like being from Mars and Jupiter, poles apart! But it was lovely to see the three sisters (Three, Five and Six) of the story, leave their country home and make lives for themselves in the big city, learning so much about life along the way.This is a great story (based on truth) and I would recommend anyone with an interest in China and it's people to read it.
Review by whitewavedarling
16/06/2015
Xinran's Miss Chopstics is as much an exploration of culture and new discoveries as anything else. Weaving together the stories of three young Chinese women who've ventured into the city to seek work, all three based on real persons she's met in her past, Xinran explores the avenues of choice and identity taken by each young woman. In whole, this is probably a somewhat optimistic and simplified view into a girl's journey from country to city, self-doubt to self-worth, but the characters are nevertheless believable and engaging, and the book is a real view into the psychological background and surroundings of girls who are otherwise viewed by their culture as little more than burdens.Absolutely, I recommend this. It is smart and careful, and well worth the read.