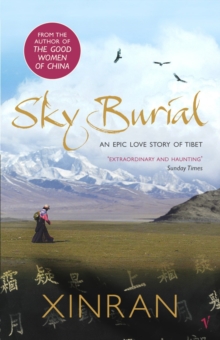 Description
As a young girl in China Xinran heard a rumour about a soldier in Tibet who had been brutally fed to the vultures in a ritual known as a sky burial: the tale frightened and fascinated her.
Several decades later Xinran met Shu Wan, a Chinese woman who had spent years searching for her missing husband who had been serving as a doctor in Tibet; her extraordinary life story would unravel the legend of the sky burial.
For thirty years she was lost in the wild and alien landscape of Tibet, in the vast and silent plateaus and the magisterial mountain ranges, living with communities of nomads moving with the seasons and struggling to survive. In this haunting book, Xinran recreates Shu Wen's remarkable journey in an epic story of love, loss, loyalty and survival.
Moving, shocking and, ultimately, uplifting Sky Burial paints a unique portrait of a woman and a land, both at the mercy of fate and politics.
Information
Format: Paperback
Pages: 176 pages
Publisher: Vintage Publishing
Publication Date: 01/07/2005
Category: Autobiography: general
ISBN: 9780099461937
Free Home Delivery
on all orders
Pick up orders
from local bookshops
Reviews
Showing 1 - 2 of 2 reviews.
Review by tronella
16/06/2015
Xinran is a writer/radio host/documentary maker who once spent two days talking to a Chinese woman who spent most of her adult life in Tibet, looking for her husband. It's a really interesting read, although clearly somewhat fictionalised.
Review by isabelx
16/06/2015
Before she took off her Tibetan robe, she removed her possessions from it like a magician producing birds out of hat, From two inside pockets came books and money, and from pouches inside the sleeve some little sheep leather pouches. From her right boot came a knife, from her left some papers. She reached inside the waist of her robe and brought out two large empty leather bags. Then she removed her long silk belt, attached to which were other little leather bags and tools.I watched in amazement: her robe was her luggage. It turned out to be her bed as well. She spread the robe on the bed as a mattress, placed the silk belt over the books and papers to make a pillow and then turned the sleeves of her robe inside out. She stuffed all her possessions into the inside-out sleeved, with the exception of the knife. Finally, she lay down on her robe, pulled the two sides around her and covered her legs with the two big empty bags. Both her body and her possessions were perfectly protected.When one of Xinran's listeners tells her about meeting a woman who has just come back to China after three decades living with nomads in Tibet, Xinran goes to meet the woman, and spends two days listening to her incredible life-story before she disappears again.In 1958, hospital doctor Shu Wen is newly-married to an idealistic army doctor, who is sent to Tibet with the army of liberation. After less than 100 days of marriage, she receives news of his death and unable to accept that he is dead, she joins the army herself in order to travel to Tibet and look for him. She is shocked to find that the Tibetans consider the Chinese to be invading rather than liberating them, and has only been in Tibet for a few days when her she separates from her comrades and heads off into the wilderness with a Tibetan noblewoman called Zhouma. They end up living with a nomadic family, and it is decades later before Shu Wen, now a buddhist and fluent in Tibetan, can take up the quest for her husband again.This is a very quiet book, full of solitude and patience, and Shu Wen meets with much kindness from both Tibetans and Chinese.Highly recommended.