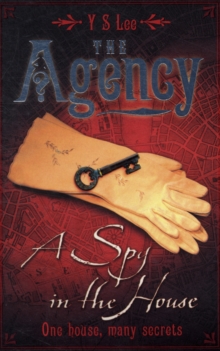 Agency Bk 1: A Spy In The House
Paperback
Description
At a young age, Mary is rescued from the gallows by a woman masquerading as a prison warden.
She is taken to Miss Scrimshaw's Academy for Girls. The school, Mary learns, is a front for a private investigation agency and, at 17, she is taken on as an agent.
In her new role she is catapulted into the family home of the Thorolds to investigate the shady business dealings of Mr Thorold.
Free Home Delivery
on all orders
Pick up orders
from local bookshops
Reviews
Showing 1 - 4 of 4 reviews.
Review by cyderry
16/06/2015
A Spy in the House is the first book in a Victorian series whose main character, Mary Quinn, is rescued from hanging at age 12 and whisked away to a girls school were she is educated and then offered the opportunity to be an undercover spy. Her first assignment places her as a companion for a wealthy young woman whose father is suspected of smuggling. No one believes that the dowdy companion is listening for information that could break the case. When listening doesn't get Mary what she needs, she takes more energetic steps to solve the case.All the characters in this book have secrets from someone and it is entertaining to see how they all work to prevent their confidences from being discovered. Ms. Lee also cleverly weaves a light-hearted romance within the story while allowing Mary show that she is intelligent, witty, and independent. What a delightful story, I will be looking for the continuations in the future.
Review by ElizaJane
16/06/2015
Reason for Reading: Victorian crime is one of my special reading interests whether it be true crime or mystery fiction. The summary of this book had me hooked and I knew I must read it.Summary: Orphan Mary Quinn is rescued from the gallows as a thief and taken into a special girl's school where she is educated and later becomes a teacher. When the time is right her benefactors introduce her to the secret underground world of Miss Scrimshaw's Academy for Girls. It is from here that The Agency, a secret group of elite female spies with a high reputation, work for clients of high esteem including the government and Scotland Yard itself. Of course, no one knows that the agents behind The Agency are women but that is their secret weapon of success. Seventeen-year-old Mary is sent undercover as a 20 year-old lady's companion to a spoilt, rich, young woman where Mary is to observe the household looking for information to help Scotland Yard arrest the father of smuggling and insurance fraud.Comments: I'll start with the basics. Fabulous book! Much, much more than I had expected. Ms. Lee has hit the scene as a Canadian YA author full force with one of the best books I've read this year so far.The author has managed to keep the book squarely grounded in the Victorian era without any hint of modernizing her characters. She has really picked the perfect situation to place her heroine in. As a lower class pickpocket thief, schooled and trained to be a lady, going undercover in various roles, Mary can act the part society demands of Victorian women but can also be who she likes in private due to her past. Mary is a very feisty character with lots of spunk who is a self-starter and needs no hand holding. This can lead to getting herself in trouble but Mary is quite adept at talking her way out of an unplanned situation.The writing is very well done. As I've said, the book keeps to the Victorian era. It also flows well and has a plot that slowly gathers steam and it comes rushing to its final conclusion. Enough clues are given to help the reader figure out what is going on and what the secrets are but there are so many of them that it would be hard put to figure out every secret that is revealed.The book is recommended for ages 12 and up and I'm a little on the fence about that. There is nothing objectionable in the book at all, but there is talk of adultery, pregnant maids being sent off, prostitution, that sort of thing. So depending on the child you may want to wait till 13/14. Plus the main character is 17yo and since she is playing a 20yo it is often easy to forget that she is a teen. I have absolutely no qualms with recommending this book to adult mystery readers who like clean cozy mysteries. The writing is never once written down to its teen audience. It is a tight, solid, well paced mystery with a bit of a burgeoning love interest that adds some humour.Another great aspect of the story is the contrast between the rich ship merchant's home and family and the squalor of the London they are living in. This is at the time of the "Great Stink" in London when the Thames river smelt noxious because of the untreated sewage and carcasses that had been emptied into it for years and the unusually hot summer that year. We also see the working conditions of the servants in that merchant's home and are taken to the dark corners of London to a home for old Asian seamen.A thrilling read, great mystery, wonderful characters, authentic historical setting with plenty of humour and a tad of love. Y.S. Lee's first novel, and first in this trilogy, is a big winner and I can't wait to see where Mary's next case will take her.
Review by wyvernfriend
16/06/2015
I quite enjoyed this story of a young woman who is investigating smuggling for a secret agency who work from her school. She finds herself entangled with a man who she's not sure she should trust but wants to and where her past comes to haunt her.I enjoyed the read, Mary is a great character and I could see how her character would lead her to this role in life. I'm looking forward to more by this author.
Review by noahsmae
16/06/2015
This is a great addition to YA fiction. It is an interesting mystery with a great heroine. I loved the snarky banter between Mary and James. They had such great chemistry. I was also very interested in Mary's internal struggles regarding her ethnicity. I am really looking forward to the next book in the series.