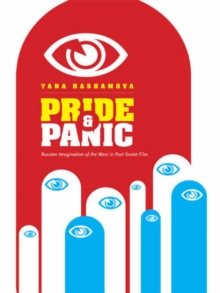 Pride and Panic : Russian Imagination of the West in Post-Soviet Film
Hardback
Description
Through the looking-glass of Russian national cinema, "Pride and Panic" explores Russia's anxious adjustment towards the expansion of Western culture.
Russian film is shown, in both its creation and perception, to expose the intriguing dynamics of societal psychological conditions.
Using specific film examples, the book delves into the subterranean recesses of Russian national consciousness, exposing an internal ambivalence and complex cultural reaction towards the rise of the West.
These fears, fantasies and tremulous anxieties are examined through the representation of the West in films by both established and lesser-known Russian directors.
Using a highly original and unorthodox approach, the author parallels the shifting dynamics of attitudes and identity in Russia, caused by globalization, to stages of development in an individual human psyche.
The book cohesively unveils the psychological turmoil experienced by Russia towards a change in global relations.
It is a text of particular interest to scholars, students and readers involved with contemporary film and, in particular, Russian cinema and culture.
Information
Format: Hardback
Pages: 136 pages
Publisher: Intellect Books
Publication Date: 15/04/2007
Category: Film theory & criticism
ISBN: 9781841501567