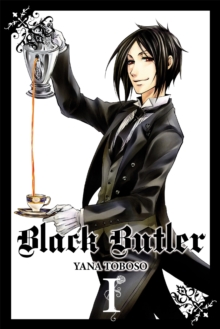 Black Butler, Vol. 1
Paperback
Description
Just a stone's throw from London lies the manor house of the illustrious Phantomhive earldom, its master one Ciel Phantomhive.
Earl Phantomhive is a giant in the world of commerce, Queen Victoria's faithful servant . . . and a slip of a twelve-year old boy. Fortunately, his loyal butler, Sebastian, is ever at his side, ready to carry out the young master's wishes. And whether Sebastian is called to save a dinner party gone awry or probe the dark secrets of London's underbelly, there is practically nothing Sebastian cannot do.
In fact, one might even say Sebastian is too good to be true . . . or at least, he is too good to be human . . .
Information
Format: Paperback
Pages: 192 pages
Publisher: Little, Brown & Company
Publication Date: 01/01/2010
Category: Comics and Graphic Novels
ISBN: 9780316080842
Free Home Delivery
on all orders
Pick up orders
from local bookshops
Reviews
Showing 1 - 5 of 10 reviews.
Previous | Next
Review by TPauSilver
16/06/2015
Welcome to victorian london, where one small child and his butler are apparently all that stands against the forces of darkness, corruption and general not-very-nice-ness. Meet Ciel and his butler Sebastian. Sebastian's life is hard because he's surrounded by idiots...and impatiant vaguely sadistic twelve year olds who get kidnapped every time he blinks. But that's ok because he's one HELL of a butler. So yeah, it's kind of worrying but also many shades of hillarious. Try it once at least to see if you can handle it.
Review by madmarch
16/06/2015
This is an excellent first volume. I picked it up because it resembled Pandora Hearts, which got me into manga thanks to it being based on Alice in Wonderland. Black Butler takes place in Victorian times (another good reason for reading), and is about young earl Ciel Phantomhive, who despite being only twelve is head of his own company. At his side is Sebastian Michaelis, his loyal butler and bodyguard, a suave man in black clothing who seems capable of doing anything. Also in Ciel's employ are three incompetent servants who supply much comic relief for the reader and much exasperation for Sebastian and the young master. These first four chapters set up the characters perfectly, with subtle hints at what Sebastian really is and of what is to come in future volumes. The first two are comedic in tone, and are mostly devoted to showing off the butler's skills. However, chapter two also introduces Ciel's fiancee Elisabeth and gives us glances at their relationship, Ciel's character and Sebby's supernatural nature.The final two have Ciel captured by the mafia- something they learn to regret after Sebastian Michaelis comes after them.Beautiful art, beautiful scenery, excellent characers. Worth reading if you're into stuff with a goth or lolita sensibility.
Review by Scamp098
16/06/2015
I found this really good, we're looking at it in skl for the stan lee awards and it's so cool, Black Butler is another of them hot manga characters that has alot of surprises up his sleeve, I would reccomend this book to anyone.
Review by catfantastic
16/06/2015
Twelve-year old Ciel Phantomhive is the head of the powerful, aristocratic Phantomhive family, known as the Queen Victoria's watchdog, the young Earl is tasked with keeping Great Britain safe from underworld menaces. Young Ciel is also the owner of a successful toy and candy company. This is all possible due to the enormous skill of his butler, the suave and handsome Sebastian. For Sebastian is more than he seems - a supernatural demon bonded to Ciel by contract.My thoughts: this is fun. Sebastian manages to be beautiful and darkly sinister at the same time. At times the manga can be quite funny, but it also has a lot of action and gore. Watching Sebastian take on mafia henchmen using silverware made me lol. My favourite character might be Mister Tanaka, an old servant who does nothing but chortle and drink tea. An interesting supernatural manga. I look forwards to reading more.
Review by Kassilem
16/06/2015
This was a fun book. The artwork is very well done and the first volume did a great job of sucking me in. Toboso gave the first half of the volume to introducing the characters and the second half for really pulling in the reader. This is a series I would like to peruse to see where the author takes this idea. Looking forward to it.