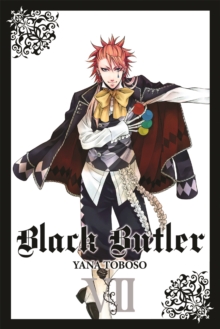 Black Butler, Vol. 7
Paperback
Description
Having successfully infiltrated the Noah's Ark Circus as the stage personas Smile and Black, Earl Ciel Phantomhive and his consummate butler, Sebastian, set about gathering clues backstage as to the whereabouts of the missing children Queen Victoria wishes them to recover.
But between the duties required of them as the newest members of the troupe and their death-defying performances, even this most efficient master and servant find themselves short on time! And with the availability of both information and opportunity equally wanting, Sebastian resorts to using his devilish wiles on one of the more vulnerable members of the troupe, while Ciel is forced to do some snooping of his own.
As the paths of their investigations converge, they find themselves standing on the doorstep of the tragedy visited upon Ciel all those years ago...
Information
Format: Paperback
Pages: 176 pages
Publisher: Little, Brown & Company
Publication Date: 25/10/2011
Category: Manga
ISBN: 9780316189637
Free Home Delivery
on all orders
Pick up orders
from local bookshops
Reviews
Showing 1 - 2 of 2 reviews.
Review by Kassilem
16/06/2015
I'm still intrigued with this series. More and more hints are popping up about Ciel and Sebastian. The artwork is still very good; I have no doubt that it will stay consistently so. There are a lot of new threads in this volume, all of them leading to more questions, but it seems as if the questions tie into the bigger picture lurking around. There's a glimpse of Ciel's father years before which was a treat and at the end, with a cliffhanger, we see that Ceil's three servants are not quite what they seemed to be.
Review by krau0098
27/01/2016
This is the seventh volume in the Black Butler series and it was amazingly entertaining. I just love this manga series and even after seven volumes it still feels fresh and interesting.This volume continues where six left off. Sebastian and Ciel have infiltrated a circus in hopes of finding clues to the children who have gone missing in London. Their search leads them to a madman who is the Father of the circus. We also get a flashback into some events that happened with Ciel and his family when Ciel was much younger. We keep getting tantalizing pieces of both Ciel's past and Sebastian's powers. We see a whole new interesting side to Sebastian in this volume. I love this piece by piece unveiling of these characters' depths and abilities.There are a load of interesting characters in here; each just as unique and slightly disturbed as the last. You just never know what the next page will hold, which is something I adore about this manga. Never the same scenes or plot devices used over and over.The illustration and attention to detail remain amazing. I also really enjoy the author's afterwards and comments at the end; they are very funny and add a lot to the story.This story stops in the middle of this story arc again; we are all poised to see what happens when evil guys try to mess with Phantomhive's hired help….apparently the Phantomhive staff wasn't hired for their domestic abilities but for their other...properties.Overall an absolutely thrilling and astonishing continuation of the Black Butler series. I love the characters, love the surprises, and just love how I can never predict how things are going to go. The illustration is top notch and the slow unveiling of the complex characters' past is absolutely tantalizing. I highly recommend this manga to those who enjoy paranormal and/or historical manga. It is just so much fun and so entertaining to read.