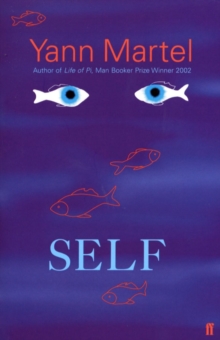 Description
A fictional autobiography of a young writer which takes the reader to Canada, Portugal, Greece, Turkey and elsewhere.
This story of love, sex and ambiguity is the first novel by the Canadian author of the award-winning short-story collection, The Facts Behind the Helsinki Roccamatios.
Information
Format: Paperback
Pages: 352 pages
Publisher: Faber & Faber
Publication Date: 01/04/2003
ISBN: 9780571219766
Free Home Delivery
on all orders
Pick up orders
from local bookshops
Reviews
Showing 1 - 2 of 2 reviews.
Review by nicolemuratov
16/06/2015
I just finished this book and am feeling quite distraught and confused as well. I thoroughly enjoyed the revealing detail Martel went into with many of his life experiences throughout this novel; he seemed to not care about what others might think when writing it. But the last experience that he describes so intricately is of him being raped. As he delvs into the experience so deeply, you come out of reading it feeling violated yourself. My problem is not of him writing about it but that he put it so close to the end of the novel that the reader hardly gets to see the narrator recover from the experience. Yes, he does mention his moving on but the reader gets no glimmer of hope that the narrator will come out of his zombie-like state. I just feel that if Martel went on to tell a little further into his life (starting to write again and open up more) that the reader would see a little more hope and the novel wouldn't end in such a grieving state. Also, the reason why the book left me extremely confused is because the narrator suddenly switches genders. In the beginning of the novel, it is a male telling the story. Then, towards the beginning of the middle section, without any explanation, the boy suddenly has a vagina and is being to referred to as a she! A little put down my the inexplicable change, I had a urge to stop reading but I managed to press on, which I'm glad I did. Then suddenly again, close to the end of the novel, the narrator is back being a male! In the last couple of pages, I was hoping that at least a hint of explanation would stick out to me but it didn't. Could someone please tell me what this author was thinking or if I managed skip over a vital piece of information beholding the explanation????? Thanks. Overall, I feel like reading this book has put me more in touch with my real self instead of my ego-self (always wondering what people are thinking of me). We are all humans that function the same way and there is nothing about it that should make us feel ashamed or embaressed. Well done Martel: weird, strange, and true...that's what makes this novel so beautiful.
Review by jayne_charles
16/06/2015
This was an exhilarating, colourful and highly intelligent read; it reminded me a great deal of Salman Rushdie's 'Midnight's Children ', though of the two books I found this one by far the more readable. There are so many different themes examined and the author's magic touch ensures they are all shown in a completely new light. I particularly liked the discussion of the ins and outs of thesaurus compilation! Sounds boring but wasn't.If there's a bum note it's my complete failure to comprehend the book's central peculiarity – the narrator's ability to change sex at will, and we're not talking about a bit of cross dressing here, it's the whole shooting match. Overnight. I was trying to work out why some novels flout the laws of physics freely and I totally believe them ('Harry Potter' and 'The Time Traveller's Wife' come to mind) but others don't convince me. I think my problem with this one was that nobody expressed any surprise at the phenomenon, and that there was clearly something deep and meaningful going on that I had failed to comprehend! It did enable the author to examine sexual relationships across the fullest possible spectrum, and in a book that occasionally nudges at the boundaries of taste, I guess that's an important consideration.