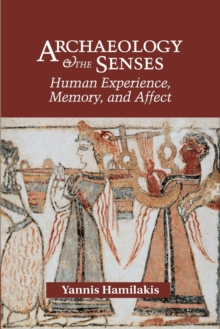 Archaeology and the Senses : Human Experience, Memory, and Affect
Paperback / softback
Description
This book is an exciting new look at how archaeology has dealt with the bodily senses and offers an argument for how the discipline can offer a richer glimpse into the human sensory experience.
Yannis Hamilakis shows how, despite its intensely physical engagement with the material traces of the past, archaeology has mostly neglected multi-sensory experience, instead prioritising isolated vision and relying on the Western hierarchy of the five senses.
In place of this limited view of experience, Hamilakis proposes a sensorial archaeology that can unearth the lost, suppressed, and forgotten sensory and affective modalities of humans.
Using Bronze Age Crete as a case study, Hamilakis shows how sensorial memory can help us rethink questions ranging from the production of ancestral heritage to large-scale social change, and the cultural significance of monuments.
Hamilakis points the way to reconstituting archaeology as a sensorial and affective multi-temporal practice.
Information
Format: Paperback / softback
Pages: 270 pages, 26 Halftones, unspecified
Publisher: Cambridge University Press
Publication Date: 16/07/2015
Category: Archaeology
ISBN: 9780521545990