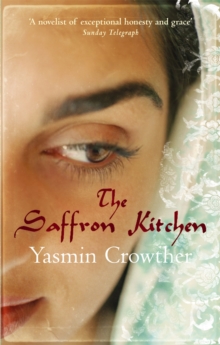 The Saffron Kitchen
Paperback
Description
On an autumn day in London, the dark secrets and troubled past of Maryam Mazar surface violently with tragic consequences for her pregnant daughter, Sara, and her newly orphaned nephew, Saeed.
Racked with guilt, Maryam is compelled to leave the safe comfort of her suburban home and mild English husband to return to Mazareh, the remote village on Iran's north-eastern border where her story began. There she must face her past and the memories of a life she was forced to leave behind. In her quest to piece the family back together, Sara follows her mother to Iran, to discover the roots of her unhappiness and to try to bring her home. Far from the terraced streets of London, among the snow-capped mountains and windswept plains that have haunted her mother's dreams for half a century, Sara finally learns about the terrible price Maryam once had to pay for her freedom, and about the love of the man who still waits for her.
Information
Format: Paperback
Pages: 288 pages
Publisher: Little, Brown Book Group
Publication Date: 03/05/2007
ISBN: 9780349119557
Free Home Delivery
on all orders
Pick up orders
from local bookshops
Reviews
Showing 1 - 1 of 1 reviews.
Review by TrishNYC
16/06/2015
I loved this book almost from page one. The writing was spell binding and the characters were engaging and not at all predictable. But what I will say next is that by the end of the book I ended up not liking the main character, Maryam Mazar, even if I did sympathized with her on some level. I felt that she was selfish in her final decision and that she thought more about herself than about the people who loved her. Maryam Mazar is a woman who at the inception of the story is a sixty something lady. She lives in London now but her country of origin and birth is Iran. Through some circumstances, she is forced to leave home and settle in London where she meets a wonderful man and has a lovely daughter. In the beginning of the book, there is tragedy that sends Maryam reeling and she seeks out her home in Iran, retreating from the misery that unfolds in London. I cannot delve much more into the particulars of what happens but here is where I found her decisions hard to stomach. She makes a choice that to me was very selfish and somewhat immature. Why would you leave behind all the love and care that your husband and daughter have showered you with for a life that you have not known for more than forty something years? By the time she goes back most of the people that were key actors in her life in Iran are dead and only a few important ones remain. She discards her present happiness for a past that she has somewhat eulogized in her mind and in my opinion was not totally deserving of its praises. I totally understand that because of the way in which she was forced to leave Iran, she never made peace with certain aspects of her life but I believe that we can make choices as to who we love and the importance that that love will hold in our lives. What happened to her was a travesty as she was punished for independence and she was a young woman far ahead of her time, born in the wrong country for an out spoken woman. But as much as my heart hurt for her past pains, I could not reconcile her heartlessness in her decision making. Not since McEwan's [Atonement] have I been so angry with a character and I know that there were legions of people who wanted to give McEwan a piece of their mind for that ending. For me such endings (when well done) actually makes me applaud cause there are not many books that can get your so invested that you get so emotional at the end. A total recommend.