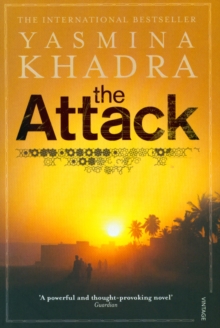 Description
Tel Aviv. A suicide bomber has killed 19 in a packed city centre restaurant.
Dr Amin Jaafie, an Israeli Arab, is a surgeon at a nearby hospital.
Respected and admired by his colleagues, the doctor represents integration at its most successful.
But this night of turmoil and death takes a horrifyingly personal turn as his beloved wife's body is found among the dead...could she have caused the devestation?
From the graphic, shocking description of the bombing that opens the novel to its searing conclusion, The Attack portrays the reality of terrorism and its costs.
Intense and humane, thoughtful, sensitive and heartfelt, it displays a profound understanding of that which can seem incomprehensible.
Information
Format: Paperback
Pages: 272 pages
Publisher: Vintage Publishing
Publication Date: 01/06/2007
ISBN: 9780099499275
Other Formats
EPUB from £4.99
eAudiobook MP3 from £14.24
Free Home Delivery
on all orders
Pick up orders
from local bookshops
Reviews
Showing 1 - 1 of 1 reviews.
Review by DubaiReader
16/06/2015
A powerful topic. (my review written in 2007, when I originally read this book).As I live in the Middle East I am drawn to this type of book to aid my understanding of some of the conflicts and to understand the human element; the cause and effect of events in this area.The central character, Dr Amin Jaafie, is a leading surgeon at Tel Aviv's main hospital. He uses his skills to repair the damage caused by the conflict surrounding him and to keep himself distanced from involvement in events. Unfortunately his wife holds much more extreme views and blows herself up in a full restaurant.As Jaafie is forced to confront this fact he starts to search for reasons why and clues that he has missed along the way.This takes us all on an eye-opening journey into Bethlehem and Jerusalem, where his views and pacifism place him on the 'wrong side'.I don't think I'd say I 'enjoyed' it, it's not a fun topic, after all, but I thought it was fascinating and illuminating.I felt the repetition of parts of the prologue at the end, was excellent and I read the book with enthusiasm.Peter Sutcliffe's wife had no clue that he was the Yorkshire Ripper, so I guess it would be possible that Sihem covered her tracks so effectively. It bothered me though that she carried the attack out on a restaurant full of children - how does that help the cause?Unlike 'The Swallows of Kabul', this book was set in Israel rather than Afghanistan. I found that fascinating as I've also read 'When the Bulbul Stopped Singing' - Diary of the siege of Ramalla (Palestine) in 2002 and 'When I lived in Modern Times' by Linda Grant - A Jew travels to Palestine after WWII to begin a new life.My one complaint with the book may be down to the translation - I never felt that Jaafie seemed quite angry, grief-stricken or confused enough, he didn't drag me through his emotions alongside him. I was always a bit detached, an onlooker.So 4 stars rather than 5.Will certainly read more by this author - my little ex-pat library has just got 'Sirens of Baghdad' in too and I intend to read that soon.